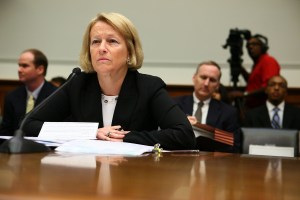 The Securities and Exchange Commission will not misuse its newfound power to reject Freedom of Information Act requests, SEC chairman Mary Schapiro said today at a House of Representatives hearing.
A section of the Dodd-Frank financial reform bill signed by President Obama in July allows the SEC to turn down FOIA requests pertaining to companies under SEC investigation. The intent had been to prevent the SEC from having to give up documents while it was in the middle of an investigation of a ratings agency or municipal bond adviser.
The law appears to give the agency broad power that could potentially allow it to cover up screw-ups or cloak its actions. It's not entirely surprising that lawmakers are worried that they gave too much coverup leeway to the agency that couldn't protect investors from Bernie Madoff's historic Ponzi scheme and has lately had a hard time pinning down alleged malfeasance by Citigroup execs.