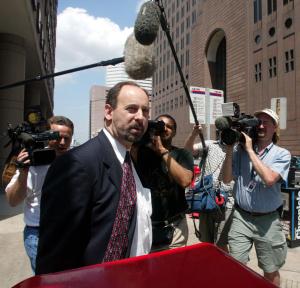 In a hearing before the Senate Banking Committee today, Securities and Exchange Commission Inspector General David Kotz gave lawmakers an earful about the SEC's handling of the alleged $7 billion Ponzi scheme run by Allen Stanford.
According to Kotz's report, which was released in April, the Fort Worth office of the SEC examined Stanford four times — in 1997, 1998, 2002 and 2004. The agency believed that Stanford was running some kind of fraud, and in 2005 finally decided to formally investigate, but it botched the due diligence and whiffed on the chance to take Stanford down.
"Novel or complex cases were disfavored," said Kotz. "As a result, cases like Stanford, which were not considered 'quick-hit' or 'slam-dunk' cases, were not encouraged."
Reuters reports that the ex-head of enforcement in the Fort Worth office, a fellow named Spencer Barasch, expended significant effort to make SEC investigations of Stanford go away. He subsequently did legal work for Stanford in 2006.
On a separate but highly related note, Barasch in 2008 offered his services to Mark Cuban, who was then facing an SEC insider trading beef. (Cuban's case was reopened this week, by the way.)