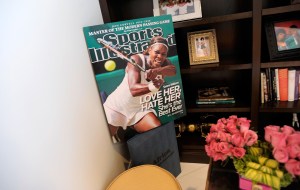 After days and days of speculation, Serena Williams has finally decided to explain what happened with her injured foot. Feet, actually!
Serena spoke to USA Today and said "she had surgery to repair a lacerated tendon on the top of her right foot…after receiving 12 stitches in one foot and six in another when she was cut by glass at a restaurant in Munich."
Eep! Either Kim Clijsters was telling the truth, or Serena's team pulled together a little narrative.
Serena, take it away:
"I came back to the United States from Germany and knew something was not right," Williams said. "My big toe was drooping, and I thought, 'My toe shouldn't be hanging like this.' I saw a specialist in New York and had an MRI, and he said I had a tendon that was torn. He said I didn't necessarily have to fix it, but I'd have a droopy toe the rest of my life. I thought it over and decided it was better to have the surgical procedure, for my career and for my life."
Apparently there was blood everywhere and she's wasn't aware of this until someone pointed it out. And the size of those cuts! That sure sounds like a lot of glass. Color me a little skeptical.
Anyway, Serena said she didn't really pay attention to any columns that have cast doubt on her story. She said she only cares about photos and photoshoots. But she did say this:
"It's unfortunate I had to have surgery, but I'm not lying or denying, because it is what it is."
Gotta love Serena. She's not even here and we've been talking about her non-stop.