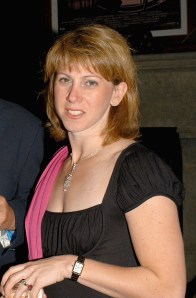 Isn't there somebody else at The Wrap who can write columns about how The Hollywood Reporter is going down the tube besides editor in chief Sharon Waxman? Perhaps not.
Last week Ms. Waxman wrote a column about how Janice Min's sensibility was turning away Hollywood Reporter readers (Ms. Min allowed the word "bitch" to be used in a headline). This week Ms. Waxman is back to go after Richard Beckman for spending too much money on THR.
"Is anyone counting what they are spending over there?" asks Ms. Waxman. "Finkelstein's new empire is throwing millions around like they've figured out how to make them back." It's nice that Ms. Waxman is worried, but her competition's budget shouldn't be a legitimate concern of hers unless she's nervous about being outclassed.
Ms. Waxman is alarmed by how much money Richard Beckman offered to Richard Johnson and how well executives on the ad side are being paid. She also heard from a THR insider told her that Ms. Min is spending $2 million on a redesign. "Oh! My! God!," she wrote.
Earlier: Sharon Waxman Pitches One Over Janice Min's Bow After 'Bitch'-y Headline