Forbes' annual list of the 400 richest Americans came out last week, and (surprise!) some of the country's richest people are also its most prominent art collectors. Here's a closer look at the top art lovers to make the list, and what they're spending all that money on. (Spoiler alert: Jasper Johns and Andy Warhol, a lot of the time.)
Getty Images
The Wal-Mart heiress is considered by many to be one of the sharpest collectors around. Her coveted collection of American masters includes work by Winslow Homer and Edward Hopper. Her family foundation once bought an Asher B. Durand landscape for over $35 million, only to donate it to the New York Public Library. She's also funding the huge Crystal Bridges Museum of American Art, currently under construction in Bentonville, Ark.
Forbes
Hedge fund billionaire Steve Cohen boasts one of the most masterpiece-studded private collections in the world. In March, Cohen paid about $110 million for a Jasper Johns "Flag" painting. In 2006, he paid roughly $137.5 million for Willem de Kooning's "Woman III" and $80 million for Andy Warhol's "Turquoise Marilyn." Brett Gorvy, a co-head of Christie's postwar and contemporary art department, called Cohen's collection "the most comprehensive collection of American postwar images in private hands."
Getty Images
The publishing magnate is a Jasper Johns and Lucian Freud fan, and a longtime friend of British advertising executive and art-world celebrity Charles Saatchi. He is known for keeping a low profile on the art market (or trying, anyway), but that doesn't stop people from speculating about the motivation behind his sales.
Forbes
Founder of the Broad Art Foundation, the real estate and finance mogul is known for loaning work from his massive collection to museums all over the globe. In addition to works by John Baldessari, Roy Lichtenstein, Jasper Johns, and Cindy Sherman, Broad owns more than 20 works by Jeff Koons and helped sponsor his 2008 show at Versailles. In August, the Broad Foundation announced it would build a museum to house its collection in downtown Los Angeles.
Getty Images
The west coast record producer boasts one of the best private collections in the country, but he's been better known in recent years for what he's sold than what he's got on his walls. Geffen reportedly de-accessioned a third of his collection in 2006, including Jackson Pollock's famous #5 drip painting for about $140 million and Willem de Kooning's "Woman III" (as it turns out, to #32 Steve Cohen).
Getty Images
The Lauder brothers have a long history as art patrons. Ronald Lauder reportedly bought his first drawing—a work by Egon Schiele—with money from his bar mitzvah. Ronald went on to found the Neue Galerie in New York, devoted to showcasing work by German artists. He was also embroiled in the decade-long suit surrounding the repatriation of Schiele's Portrait of Wally, ultimately returned to the Leopold Museum in Vienna in July.
Getty Images
For this financier, art is a family affair—although he and his wife take different corners. Marie-Josée Droun, Kravis' wife, is the president of the board at the Museum of Modern Art, while Kravis himself sits on the board of the Met Museum.
Getty Images
The Johnson & Johnson heiress' taste for Renaissance and baroque art puts her in the minority of postwar-obsessed art collectors on the list. Last December, she sold a Rembrandt to casino owner Steve Wynn for $33 million. Johnson, a former art history student, also bought (for $15.1 million in 1990) and sold (for $36.7 million in 2004) the world's most expensive piece of furniture, the Badminton Cabinet.
Getty Images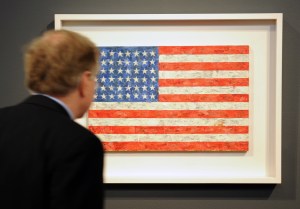 Forbes' annual list of the 400 richest Americans came out last week, and (surprise!) some of the country's richest people are also its most prominent art collectors. Here's a closer look at the top art lovers to make the list, and what they're spending all that money on. (Spoiler alert: Jasper Johns and Andy Warhol, a lot of the time.)