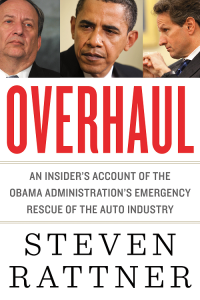 As recently as March, Steven Rattner, the former private equity kingpin and Obama administration car czar, was having an unpleasant time with Overhaul, his book on the emergency auto rescue. "Writing books is a bear. It's just really hard work. And he hasn't done it before," Mark Green, who'd talked to him about the struggle, told The Observer then.
It didn't help that Mr. Rattner was ensnared in the billion-dollar New York State pension fund scandal. Those problems haven't gone away, in fact they only seem to have gotten worse, but Mr. Rattner's book is finished. And, according to an advance manuscript that was sent to the Observer this morning, it looks awfully interesting.
So far, this reporter has read just the opening and the finale, which, normally, is a terrible and book-ruining thing to do. It was excusable in this case, especially because of a three-page acknowledgement passage that is one of the all-time greats.
For starters, the book—whose cover features very serious expressions from Larry Summers, Tim Geithner and President Obama, but not our author—has an alluring table of contents. "Dead Man's Curve" is Chapter One, "Mr. Rattner Goes to Washington" is third, followed by "F**k the UAS," and later "Harry Wilson's War" and "The Chief Executive Shuffle" for the finale. There is a six-page character list, followed by a prologue that opens up with the image of Obama body man Reggie Love watching Tiger Woods in March 2009, who was "then still respectable and heroic." Was Mr. Rattner referring to himself metaphorically? Probably not.
The book, which was written with the help of a Fortune editor, a Team Auto colleague, a financial journalist and four others, begins with lovely turns of phrase. The Oval Office on weekends was filled with "T-shirts and jeans worn by unshaven, sockless men." The president "had the air of a man in the business of calmly executing." General Motors and Chrysler were being "fed intravenously" with cash. And Governor Jennifer Granholm's' voice "barely rose above a whisper," but "a chorus of anxious voices crackled through the speaker" during a conference call with senators.
The book, which comes out next month, and was sent without an embargo, is up to date. Mr. Rattner writes that he was disappointed with Ed Whitacre, who just announced he was stepping down, despite a promise "to see GM through its initial public offering." He is also annoyed that Dan Akerson will be both chairman and CEO, which means the roles won't be separated as he had hoped.
Still, working with "such a talented and collegial group of extraordinary individuals has been the high point of my career," he says. Geithner and Summers were "available, supportive, and decisive," and "servants of the highest order and integrity." And other government people? "Contrary to what some Americans may think," he writes, "the Treasury is blessed with a large array of talented and dedicated staff members."
He saves his best for a close friend. "I pay particular tribute to Mayor Michael R. Bloomberg, who truly knows the meaning of loyalty and standing up for people you believe in." Despite Mr. Rattner's pension fund problems, Mr. Bloomberg has stuck by his side: "It's certainly true he's not moving away from Steve," a source told The Observer for the March story.
After that thank-you comes a glorious list of names "to whom I am equally grateful." In order of appearance, just a few of those names are The Times' Michiko Kakutani (he calls her Michi), Ambassador Richard Holbrooke, billionaire Barry Diller, Clinton adviser Vernon Jordon, JP Morgan's Jes Staley, billionaire Leon Black, Senator Chuck Schumer, billionaire David Rubenstein, Harvey Weinstein (thanked twice, actually), Bear Stearns' Warren Spector, billionaire Jerry Speyer, billionaire Mort Zuckerman, Barbara Walters, Lehman's Dick Fuld, The Times' Arthur Sulzberger, the Mets' Fred Wilpon, and Harvard's Skip Gates. He doesn't bother with the Henry Louis part.