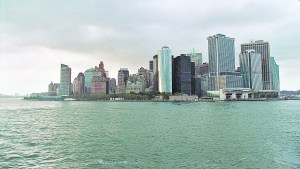 When I was told that this week marks the one-year anniversary of The Commercial Observer, I could not believe it. One year, 50 columns and about 85,000 words later, I am glad that I accepted Tom Acitelli's offer to contribute to the paper with my Concrete Thoughts column. I would like to thank so many of you for your kind words and support. Each week, I receive several emails from readers with questions, comments, story ideas and feedback. I appreciate this input regardless of whether readers support my positions or dissent, presenting counterpoints.
Three of the questions I receive regularly are: 1. Do I actually write the articles? 2. How do you find the time to write them? 3. Why do you write them?
To understand my answers to these questions, it is helpful to understand what drives me. Let me try to provide some insight.
I HAVE ALWAYS been interested in economics. Going back to my freshman year at the Wharton School, I listened intently to classic illustrations using guns and butter or water and diamonds to explain economic fundamentals in Samuelson's Econ 101 textbook.
These theoretical relationships came vividly to life for me when I saw the impact the dreaded "Cuomo Tax" had on the investment sales market. This tax was a New York State capital-gains tax that added an additional 10 percent tax to any investment property sale with a price in excess of $1 million. I saw that this tax forced transaction volume to dry up, as it simply became too expensive for sellers to part with their properties.
This was not an unexpected result (at least if you were actually in the business and not a politician without real-world experience). If you make anything more expensive, there is naturally less of that activity. What was really eye-opening to me was that after the tax was repealed, tax collections from real estate transactions, including capital-gains taxes, actually increased, as transaction volume picked up significantly. This was one of those "a-ha" moments for me. I wanted to understand more about how public policy impacted me, sitting at my desk each day, trying to sell buildings in New York City.
This thirst for knowledge turned me into a voracious reader. I wanted to get my hands on everything possible to broaden my knowledge and understanding of the macroeconomic ramifications of public policy on commercial real estate sales. To this day, I regularly read The Wall Street Journal, The Times, the Post, Crain's, Barron's, Forbes and the Financial Times as well as all of our great real estate trade publications.
Beginning in the summer of 2007, when the credit crisis started to tangibly be experienced, uncertainty about current and future market conditions caused even the most seasoned participants in the market to question what was going on in our marketplace. We saw an unprecedented level of government intervention as the crisis grew into the Great Recession, which led to "issues" for Fannie Mae, Freddie Mac, GM, Chrysler, Lehman, Bear, AIG and a host of others. We saw TARP, TALF, PPIP and several rounds of "stimulus." Within the past three years or so, we have witnessed a time in which there have never been (at least during my 26-plus years of brokering property sales in the Big Apple) closer ties between economics, politics and real estate.
During this time, the frequency of my periodic "Commentary" writings to my clients increased and I began to write my StreetWise blog. Then, one year ago, Tom asked me to write for The Commercial Observer, and I happily agreed to join what has been a fantastic team to work with. Writing had become a weekly habit.
So let's get back to the three frequently asked questions.
Do I actually write this column?
Yes, I write every word of these columns. My wife, Cynthia, who puts up with an alarm clock going off very early on weekends, and my assistant, Erin Mitchell, who transcribes my dictation each week, can both attest to this.
How do I find the time to write this column?
As my brother, Jeff, would always tell me, you can find the time to do anything if it is important enough to you. One of the keys to a successful and happy life is to be able to prioritize things and to find that delicate balance between each of the things that are important to you. That being said, I always remain cognizant of the fact that my real job is to be an asset to Massey Knakal Realty Services and my primary contribution to the company is to sell properties for our clients. I, therefore, cannot take time away from clients who have entrusted me with the responsibility to do everything I can to maximize the sales prices of their properties.
I am also blessed to have a wonderful family, including my wife, Cynthia, who is very understanding of the considerable time commitment a career in commercial real estate requires, and a nearly 2-year-old daughter, Sophie, who I want to spend as much time with as possible.
So to answer the second question, I begin my day on Saturdays and Sundays at 5 or 6 a.m. and work on my writing until 9 or 10, when the family is up and ready to start the day (Sophie has, thankfully, slept for 12 hours each night since she has been 2 months old). Saturday mornings are spent organizing thoughts, doing some research, creating an outline and then dictating the column into a microcassette recorder. I then send the tape to Erin, who transcribes the tapes before Saturday evening. Sunday mornings are spent cleaning up and editing the column. I also use Sundays to work on my blog and write any commentaries used in Massey Knakal's marketing efforts. By utilizing these early-morning weekend hours, I am taking time away from neither my clients nor my family.
Why I Write?
The answer to the third question requires a more detailed explanation.
An obvious reason is that the exposure provided by this endeavor creates business opportunities. While this is part of the answer, it is, indeed, only a part of why I do this.
To understand the rest of the reasons, let me start by saying that I am very passionate about my profession. I love selling properties, and I believe strongly in the niche in which Massey Knakal competes. I have always believed that anything worth doing is worth doing well, and I have always strived to do better than my best in all of my endeavors.
When Paul Massey and I started brokering in 1984, our niche, in noninstitutional building sales, was the Rodney Dangerfield of the commercial real estate industry in New York: It got no respect. We grew up in the business in a vacuum. The niche was devoid of transparency and readily available information and statistics, which led to a lack of stature generally associated with larger property sales. At that time, large sales were the darlings of the media (and still are to a large degree). Rarely was a noninstitutional property sale written about.
When we started, participants in our niche were accustomed to one-page setups; exclusive listings were a rare occurrence; and transactions were often "flipped" several times over. Each broker had a few "go to" buyers and not much was done beyond that. Few agents specialized only in building sales, and those that did were relatively covert operators.
These market conditions provided us with a deep-seated mandate to make our market niche as prominent as the market for properties over $100 million was. We wanted to enhance market transparency and stature, and to convey the viability of the building sales market at the noninstitutional level. Paul and I wanted Massey Knakal to be a source of expertise and information for those who were active in New York City's building sales market. We always wanted to provide the real estate community with proper market overviews, data, insight and statistics to help make the market more transparent and efficient. Our philosophy of freely sharing information was possible because of our belief that, in New York City, with 165,000 investment properties, there is always plenty of business to go around for everyone.
The noninstitutional property sales niche is, indeed, a valuable component of the mosaic that is New York's commercial real estate market. Writing about this market in a publication like The Commercial Observer affords me the ability to reach thousands of market participants efficiently and effectively to achieve the objectives mentioned above.
Lastly, writing this column allows me to be a voice for the industry–joining so many others who admirably serve as advocates for our commercial real estate community. More advocates are needed to influence the perspectives of the people who have the ability to affect our marketplace through regulatory or legislative changes.
Far too many of our policy makers and politicians have no private-sector experience. Even more don't understand basic economic principles. Unfortunately, getting reelected is the main objective for an overwhelming majority of our elected officials, as opposed to trying to make beneficial changes. Glaring examples of misguided initiatives are seen in pending rent-regulation reform, prevailing wages (which caused the implosion of the Kingsbridge Armory transaction in the Bronx), tax policy, entitlements, union contracts, public-sector pensions–the list goes on and on. Each of these things, in their own way, impacts our real estate market.
Through my writing, I attempt to create awareness of the policies and issues affecting our industry. The more aware we all are of these issues, the more likely it is that we may be able to impact the perspective of a policy maker. Steve Spinola and the Real Estate Board of New York do a terrific job of advocating for our real estate community. I believe that each of us, in our own way, should be ambassadors for our industry. If something is good for our industry collectively, it is good for each of us individually.
WRITING THIS COLUMN each week is not easy, as I have not been on a "work-related" deadline since I had to be on time for exams in college (hence, my enhanced admiration for the journalists who cover our real estate industry). Not easy, but I believe it is beneficial to some of the people in our industry, and it is important to me personally. Much of the research for the column provides a learning experience. Continually focusing on self-improvement is a trait commonly found in highly effective people, and here, the focus cannot be avoided.
I am hopeful that today's column provides some insight into the If, How and Why of my involvement with The Commercial Observer. Thank you again for all of your support, and if you would like to share ideas for column topics, please feel free to keep the suggestions coming.
rknakal@masseyknakal.com
Robert Knakal is the chairman and founding partner of Massey Knakal Realty services and in his career has brokered the sale of more than 1,075 properties, having a market value in excess of $6.5 billion.