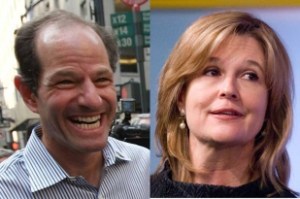 Eliot Spitzer sat down with The Wall Street Journal for his first lengthy interview about Spitzer Parker, his new show on CNN. The Journal also talked to Kathleen Parker, who was cranked up on energy drinks. What we learned about the hosts of CNN's new 8 p.m. hour:
What Ms. Parker was wearing that day: Leopard-print heels

What was sitting in Ms. Parker's lap: Ollie, her blind poodle.

What Ms. Parker drank that day: Two Bottles of 5-Hour Energy ("The only way I can get through a day with Eliot Spitzer…")

Comparisons involving guns that Ms. Parker used to describe herself and Mr. Spitzer: "He's a machine gun. And I've got a shot gun. I've got a water pistol, and he's got an Uzi."

How Mr. Spitzer is going to make policy interesting for viewers: "I have no idea."

Qualities that Ms. Parker Has, According to Mr. Spitzer: "A wit and a charm and a sparkle."
Earlier: It's Spitz-o-phrenia!