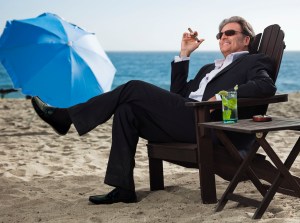 Mayor Michael Bloomberg has come out in support of a ban on smoking in parks, beaches and boardwalks that he once said was probably logistically impossible.
The ban, which also includes pedestrian areas like Times Square, makes smoking outside almost completely forbidden. Unless you plan to do it in the middle of the street, which the surgeon general probably doesn't advise either.
Mr. Bloomberg offers a tired, but very true chestnut in support of the ban. "The science is clear," said the mayor. "Prolonged exposure to secondhand smoke – whether you're indoors or out – hurts your health."
So far the only cities with similar ordinances are in sunny California, including Los Angeles, where the lack of puffing hasn't done much to clear the air.
In New York, the ban could extend to more than 1,700 parks and 14 miles of shoreline. The fine will be $50.
Mr. Bloomberg may be haunted by comments he made right around this time last year, when Health Commissioner Thomas Farley proposed the ban. Though the mayor said he might be in support of a limited outdoor ban, he also noted, "It may not be logistically possible to enforce a ban across thousands of acres." Indeed.
lkusisto@observer.com