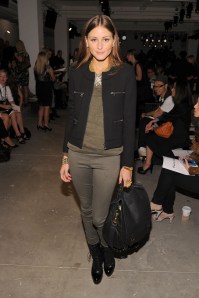 Lateness is generally allowed for — encouraged, even — at Fashion Week shows, but the slow oozing of people into today's first event at Milk Studios probably had something to do with the early hour.
Olivia Palermo, socialite and actress on The City, was on the tardy side herself, but told The Observer that morning sluggishness is not to blame. "I don't mind," she said of the start time. "You know what? In New York, you're always on the go!"
Even if some of the attendees did come in still half asleep, the pre-show music probably didn't help. The soundtrack consisted of mellower tracks from The Shins, Fleetwood Mac and slumber-core stalwart Nick Drake.
The jet-setting fashion blogger BryanBoy, who sat between us and Ms. Palermo, was adequately prepared for the day's first show. He took it easy Thursday night, he told us, and was up by 5:00 a.m. this morning.