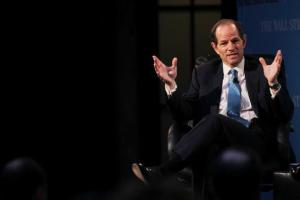 In a fast-moving scrum after the Wall Street Journal forum this morning, Eliot Spitzer offered a quick assessment of the Democratic undercard.
"I think Eric is a superb lawyer who understands the job," he said of state Senator Eric Schneiderman, who is vying for Spitzer's old post as attorney general.
"I have spoken to him and worked with him over the years. he is a voice for reform in Albany. He has worked very very hard. He has one of the voices up in Albany who's pushed aggressively and successfully for meaningful reform. And I think Eric will win, and will be a very fine attorney general."
Spitzer even had some praise–although slightly more faint–for Comptroller Tom DiNapoli. As governor, Spitzer was infuriated when the Legislature picked DiNapoli, who he called "totally unqualified."
"I think Tom has done a fine job," Spitzer said this morning. "He's in a tough position right now. Tom has tried to do some smart things in the comptroller's position and I'm sure he'll do fine."
The soon-to-be CNN anchor said (more than once) that he would not be offering official endorsements, on account of his new job.