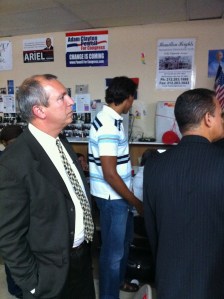 Adam Clayton Powell IV got impatient Tuesday night in Hamilton Heights waiting for the delayed primary results.
"I can't take it anymore!" he half-joked, complaining to a campaign volunteer around 10:30 p.m—nearly an hour before he finally learned that he lost the race to Charles Rangel, by around 23 percent to 51 percent.
"I don't understand why it's taking so long. If it doesn't start shaking, it'll be 1 o'clock," he said to a group of supporters in bright yellow Powell shirts, sitting anxiously in the Hamilton Heights Progressive Democratic Club office on Broadway, between 150th and 151st.
Mr. Powell paced back and forth while waiting, dividing his attention between a Fox news report airing on a tiny TV in the corner of the room and a Dell computer that supporters continually refreshed with NY1 results.
"You have to just wait," he said.
At one point, the Fox report went live to Rangel's event.
"Shh!" Mr. Powell told the crowd, wiping sweat from his face with a handkerchief and listening as the news report listed Rangel's political supporters who showed to the incumbent's more lavish event.
"When you run against a 40-year political powerhouse, not many people want to go on the record giving you money," Mr. Powell told The Observer before the final results came in. "But we did great."
By 11 p.m, some tired supporters started to file out, giving Mr. Powell high-fives and hugs before departing.
Finally after much delay, Mr. Powell told reporters and the remaining crowd to gather around for a speech. Few people were still watching the small TV by that point, and most hadn't even realized the race was over.
"Some people can embrace change," Mr. Powell said. "Others have a difficult time letting go."
"This was a wall that we ran into," he said. "Although we may have lost the battle tonight, we will not lose the war."
"Change is [still] coming," he added.
It was not a stress-free experience, either. "There were times when it was even hard for me to go to sleep at night." But, he said he could always hear a voice telling him, "Keep the faith, baby."
And this is just the beginning. No one can ever stop Adam Clayton Powell IV from public service, he continued, referring to himself in the third person—"not tonight, not any night."
Luckily, he may not even have to sit around for two years, given Rangel's ongoing ethics controversy, he said. "Stay tuned, folks. … This time, we may not have to wait."
"Powell for Congress may be coming to a block near you very soon." (He did take a brief moment to offer Rangel and his team a luke-warm congratulations.)
Earlier in the evening, supporters had said that Harlem was ready to oust Mr. Rangel.
"We are really confident we're going to change the future," Felix Figueroa, president of the Hamilton Heights Progressive Democratic Club, told The Observer. "People are really tired of Rangel."
Miosotis Muñoz, running for a State Senate seat, said that she and Powell were part of a new group of politicians, working to break the status quo. "They look at us like renegades," she said, adding, "This is a community club that doesn't answer to big bucks."
Regardless of their initial confidence, (when Mr. Powell first arrived, he said he was "feeling great"), after his final speech of the night, Mr. Powell told The Observer that the race was just too crowded. "It was difficult for people to focus," he said. It was always, "'Rangel and his opponents, Rangel and his opponents.'"
For many voters, Mr. Powell said, it was simply, "'Better the devil I know.'"
As supporters left, he told his fans to hold on to their Powell campaign shirts, since they could come in handy in his next run: "The T-shirts don't have a date."