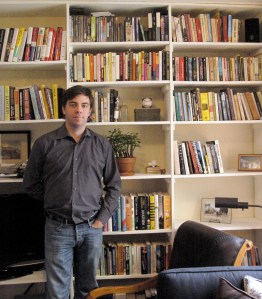 Curbed network founder and president Lockhart Steele insists that the new national version of his flagship site won't be competing with shelter magazines.
All the same, one of the fledgling site's first major features involves sending dollhouses to the top remaining home-design books, like Elle Decor and Martha Stewart Living, with accessories specifically tailored for the recipient. Martha Stewart's dollhouse comes with a furniture set inspired by her first home in Connecticut.
"We wanted to do something to kind of celebrate the fact that actually a whole bunch of these jobs just switched around," Mr. Steele said of "Operation Dollhouse." "God only knows, it must have been some hazy, late-night meeting that turned out the idea of sending them all dollhouses, and we'll see if they're amused or if we just get a steely glare in return."
To broaden the audience for the neighborhood-cum-real estate porn blog, Mr. Steele has designated interior design as one of the major topics to be covered by Curbed National, which launched last Thursday. Mr. Steele is content to let the rest of his topics originate organically–i.e., from his writers. It's a model that's served him well for Racked and Eater, his other two sites that went national within the past year.
"Our sites are pretty good at sniffing out what would I refer to as the heroes and the villains of these different worlds, and we're kind of like the World Wrestling Federation because you can be a hero one day and a villain the next and switch back and forth," Mr. Steele said. "The point is, you don't really want to force it."
The next few months will be an experimental stage for Curbed National, which Mr. Steele has described as "Architectural Digest after a three-martini lunch."
Representative posts include spy photos of Lady Gaga at ABC Carpet & Home and an off-topic conversation with Ikea's automated chat bot. "I like to make the point to everyone involved that, at the end of the day, it's a blog," Mr. Steele said. "Which is to say if we do an item today that's kind of stupid or pointless or doesn't really fit our topic, well, you know what? It's going to be off the blog tomorrow."
His relaxed attitude derives from the fact that Mr. Steele puts a premium on hiring. He recalled an occurrence so common during his time at Gawker Media, where he served as managing editor from 2005 to 2007, that it had become a workplace joke.
A Gawker writer would receive an email with a story idea from Nick Denton and then turn to Mr. Steele for guidance about what to do with the story.
"And I would say, 'Well, you can do whatever you want with it,'" Mr. Steele said. "And they would say, 'Well, I actually wrote about it two weeks ago. Why is he sending it to me again?'"
This is when you knew you'd made it as a Gawker writer.
"The reality is, those of us who run blogs can't be on top of every single thing that's happening on every single blog every minute, so that's why you have to have an enormous amount of trust in your editors," Mr. Steele said. "On a minute-to-minute basis, it's their blog, not mine."
Curbed National is edited by Sarah Firshein, whom Mr. Steele knew from his pre-Gawker days at Cottages and Gardens, and the site's other full-time staffer, Rob Bear, was hired partially on the aesthetic strength of his design-oriented Tumblr.
Mr. Steele's next major sites include a Curbed Chicago and an Eater based in Austin, Texas. When it was suggested to Mr. Steele that his blog empire may soon rival that of his mentor, Mr. Denton, Mr. Steele just laughed.
"If that's the case, then life is really good for him," he said. "We're a speck on the bottom of his well-tailored shoe." –Dan Duray