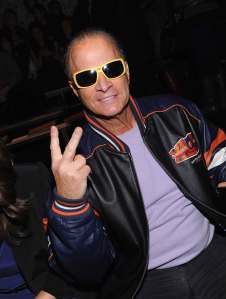 "I'm writing something to Mark Wahlberg," said Stewart Rahr, the billionaire pharmaceutical wholesale distributor.
It was a hazy summer afternoon and the 64-year-old president and CEO of Kinray Inc. sat in his office in Whitestone, Queens, planning a party. The guest list was the main concern.
"Marky Wahlberg is flying in to hang at my party, and I want him to bring Matt Damon so I am forwarding him this invitation," he said, putting the finishing touches on an email. "Lionel Richie is also flying in from L.A., which is big. And Sharice, she is the best of the best and will be as popular as Celine Dion, which is a monster statement. I've been following her career for three years with my dear friend, David Foster, who probably discovered her. So I am sending that out to Marky because I want him to forward that out. Got it?"
The email to Mr. Wahlberg read: "Bro, please forward this 2 Matt Damon. Tons of thanks. C U August 2 at ur premier." It was written in a giant purple font.
"Purple and yellow are my colors," Mr. Rahr said. "And yellow is Rah Rah. Stewie Rah Rah." He put on a pair of bright yellow Rayban Wayfarers. "Stewie Rah Rah, King of Fun." Richard LeFrak and Justin Timberlake's cousin helped Mr. Rahr coin the nickname.
Later that evening, Mr. Rahr flew to Scotland to play golf, and from there, he jetted to St. Tropez. He returned in time to attend the premiere of Mr. Wahlberg's new film, The Other Guys, and to host his late-summer party at the 22,000-square-foot East Hampton home he bought for $45 million in 2005.
Stewart Rahr is the richest, most well-connected New Yorker you have never heard of. According to the 2009 Forbes 400, he is worth $1.9 billion and is the 183rd richest American. Despite the anonymity, Mr. Rahr, a slightly daffy and eccentric self-made billionaire, flaunts his wealth, his massive donations to charity–he is the top donor in the history of the Make-A-Wish Foundation–and, most of all, his famous friends. In fact, he is a compulsive name-dropper.
"Enter, s'il vous plait," Mr. Rahr said, opening the glass door to his auxiliary office. He wore a baby blue T-shirt, frayed at the neck, light blue jeans and yellow Nike sneakers. His skin was alarmingly orange. "See if you recognize any of these people. This is the office of nonsense."
The room was lined wall-to-wall, ceiling-to-floor, with more than 500 photographs of Mr. Rahr posing with various celebrities: Angelina Jolie, Michael Jordan, George W. Bush, Roger Federer and Paris Hilton. He is close with some of them– Andre Agassi is his "dear friend"; Phil Mickelson is his "friend"; Donald Trump is his "buddy"; Michael Milken is "the best friend to have. Milken is No. 1." He has anecdotes about the rest.
MORE > Inside Roger Federer's Lavish New York Hotel Suite
"I can't stand Tiger Woods. He is the most selfish man I've ever played golf with. It's a tremendous story, but I don't have time to tell it," Mr. Rahr said. Then he told it. In 2003, Mr. Rahr donated $250,000 to the Rainforest Foundation to golf with Mr. Woods. "I played with Tiger and he didn't say a word. At the end, my caddy went over to Woods and asked him to sign two hats for his daughters. Tiger Woods said, and I quote, 'The round is over. We are now in my locker room. I don't have to do anything.' I got into this oral argument with Tiger Woods and got him to sign the two hats for my friend. Then he asked me not to come back for that evening's event where I was co-hosting."
"He's the most selfish guy I know out of the 500 celebrities on this wall. He is, by far, the jerk. You can tell him I said so."
Mr. Rahr began collecting the photographs after approaching Bill Gates years ago at a Sting concert in Bryant Park. "It's validation," he said. "It's validation of where I am and what level I am on."
Pierce Brosnan remained the only individual to shirk his advances. "There are four urinals. I take the one right next to him and I start peeing," Mr. Rahr explained, as he stood up, pantomiming urination. He began to hum.
"[Brosnan] looks at me and says, 'Gosh, your face looks so familiar.' I say, 'It should because you were so rude to me today. You wouldn't let me take a picture,'" he said, referring to a little run-in they'd had while exiting the first-class cabin on a New York-to-Palm Beach flight. Now, in the rest room at Donald Trump's Mar-A-Lago Club, Mr. Rahr got his revenge. "And I said, 'Here you are at my best friend's place where they are honoring you. Now don't you feel like an ass?'"
Mr. Brosnan apologized and insisted they snap a picture together. "It's probably somewhere on this wall," Rahr said. "That was the only guy who said, 'No.' And ironically, on that night, he was being honored at my buddy Donald Trump's." He smiled. "Great story."