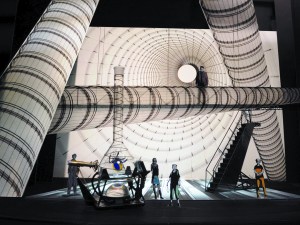 The opera set pieces, art installations and stage designs of Soviet-born George Tsypin share a glimmering strangeness. With dazzling lights, shiny surfaces and strange angles, it is as if reality were heightened, or as if the subconscious had somehow taken over the spaces he designs. Nonetheless, Mr. Tsypin was quite apprehensive when he first read the script of Spider-Man: Turn Off the Dark. While the iconic comic-book hero has swung, in spectacular fashion, from the pages of the comic book to towering buildings in the movies, Mr. Tsypin's challenge is to make Broadway audiences feel the same elliptical thrill without Hollywood's green screens and special effects.
"I thought," he said, "'Well, this is completely impossible.'"
Mr. Tsypin and Spider-Man director Julie Taymor are tasked with bringing the web-slinger to Broadway as a musical with songs by Bono and the Edge. The much-delayed production (it opens Dec. 21) has been the subject of endless theatrical speculation as to whether Broadway newcomer Bono can help craft a spectacle that will play to the crowds long enough to recoup its considerable investment. (The production features elaborately costumed villains, the "Sinister Seven," including a deadly serrated metal villainess dubbed Swiss Miss.) That, like Spider-Man himself, is still up in the air. But Mr. Tsypin said he has one secret weapon. "In theater," Mr. Tsypin said, "anyone flying is exciting."
Mr. Tsypin and Ms. Taymor are far from new to working together. "George and I have collaborated on five operas," said Julie Taymor, among them the lavish and popular production of Mozart's The Magic Flute for the Metropolitan Opera, which featured a plexiglass plastic box etched with Egyptian hieroglyphs and Masonic symbols. "His work consistently pushes the envelope and is always wonderfully thrilling." she wrote in an email.
For the solution to his Spider-Man design problem, Mr. Tsypin said, they reread the comic book: Marvel Comics' 1962 Amazing Fantasy, where Stan Lee and Steve Ditko introduced the original iconic antihero. Impressed with the "primitive, primal power" of Mr. Lee's creation myth and Mr. Ditko's bold illustrations, and had the idea to bring the comic book to life in a different way than the hyper-realism of the movies. "My impulse was to take graphic comic books and explode them into 3-D space, almost pop-up style," Mr. Tsypin said. That way, he says, he can preserve the period quality of the original comic books and sidestep the slickness of the films. The goal is to create immersive, environmental theater.
Fans of Ms. Taymor's The Lion King will remember how that musical opens, with a parade of elegant, human-size animal puppets of the African savannah coming up the aisles alongside the audience and taking their places on the stage, drawing the audience in with them, as it were. But here, the immersion goes much further. "The entire theater is where the story takes place," Mr. Tsypin says. "Not just the stage. I wanted to make it an environment where every member of the audience almost feels as if they're part of it, not just looking at a small Peter Parker or Spider-Man jumping over buildings, but creating an image of New York that is perceived as if you were Spider-Man."
"George has managed to combine both the original Marvel aesthetic with his own truly unique expressionist style," wrote Ms. Taymor in an email. "George's extraordinary use of space has successfully made our huge theatre feel simultaneously intimate and theatrically dangerous."
Bringing the audience further into a created world is a hallmark of Mr. Tsypin's designs, and of his work as an artist and sculptor. Invited to show at the Russian Pavilion at the 2003 Venice Biennale, he first filled the rooms with a few feet of water. Light reflected off sculptures in the water as people walked gingerly through the space on planks, creating, Mr. Tsypin said, "a sense of being unstable," as if people were moving through history. The work, he said, was a comment on the shifting history of Moscow and St. Petersberg, by way of Venice. Mr. Tsypin studied architecture in Moscow, and architectural training has been a key to his designs, he said: how the environment of the physical structure makes a person, a spectator, an inhabitant feel. (He admires, among others, Jean Nouvel and Frank Gehry.)
Designing for a Broadway show is much more complicated than designing for opera. With Broadway, "you're creating a machine. If you're lucky, a machine that should run a long time. You're creating an entertainment for the mass audience. In opera, where first of all, it's about the music–which is slow–if you have a big scenic effect in each act, you're lucky. For Broadway, you have to have a big effect every two or three minutes."
So amid the shifting perspective of buildings and moving pieces, the musical has, like certain operas, two big set pieces. One involves Spider-Man discovering his powers, in which he jumps from building to building in full vertiginous thrall to his sudden gifts. The second involves a climactic battle between Spider-Man and the Green Goblin.
At the Foxwood Theatre, Spider-Man will fly through the house and onto the balcony, the walls–everywhere. And the scenery will be placed, as it were, throughout the house, and shift along with Spider-Man's flights. "The entire environment we've created is kinetic and dynamic," Mr. Tsypin says, "but you also see New York from a different perspective, as if you were able to jump buildings and to fly over Manhattan. It's a whole different experience of New York. And New York is, of course, as important a chapter in this story as Spider-Man himself."
editorial@observer.com