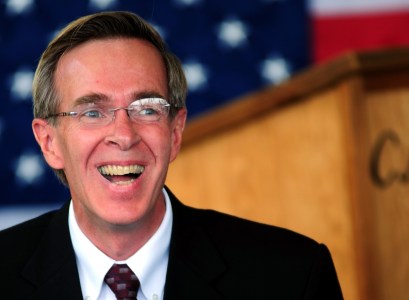 Last year Democrats flipped an open congressional seat into their column when conservatives abandoned the moderate Republican candidate Dede Scozzafava for Doug Hoffman, who was running on the Conservative line. The whole affair led to the coining of a new verb- "To Scozzafava," which means to purge moderates from your party.
Now the right-wingers seem to have learned their lesson. Hoffman lost the race for the G.O.P nomination to Matt Doheny, a former director at Deutsche Bank but, according to this article in the Adirondack Daily Enterprise, the Tea Partiers who have backed his candidacy are abandoning him and getting behind a candidate who has a better shot against the incumbent Democrat, Bill Owens.
Upstate New York Tea Party (UNYTEA) head Mark Barie tells the paper that while Doheny may not be as socially conservative as Hoffman, "he's a fiscal conservative, and that's our priority right now."
After losing the election last year, and turning the seat over to Democrats for the first time since the Civil War, Hoffman became a hero to the right-wing, and Barie acknowledged that it was hard for some of their members to abandon him, but he said that Hoffman ran a terrible, terrible campaign.
"This is bigger than one person; it's the future of our country," Barie said. "Should one of us stumble, somebody has to pick up the baton and keep running."
Hoffman is still on the ballot on the Conservative line. This seat should be an easy pick-up for Republicans, but if he runs hard it could stay in Democratic hands.