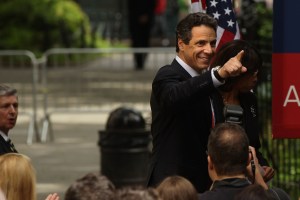 As Republicans try to right the ship after a dispiriting and divisive primary campaign, the question for most Democrats, between now and Nov. 2, isn't whether Andrew Cuomo will win the governor's race, but by how much.
It isn't just an "ego thing," as one Democratic consultant put it, although there's certainly that. Nor is it an abstract question of whether Mr. Cuomo goes into office with a popular mandate, for whatever that's worth. More important than any of that, at least for Democrats not named Cuomo, is whether the guy at the top of the ticket will have the appeal, and willingness, to pile up the sorts of margins around the state that will allow down-ticket Democrats in marginal districts to survive the election.
"I think it's extremely important," said Senator Kirsten Gillibrand of Mr. Cuomo's popularity. In 2006, she became the first Democrat in nearly three decades to win in the 20th Congressional District, thanks to the help of Eliot Spitzer's blowout victory over John Faso in that year's race for governor. This year, her successor, Scott Murphy, is trying desperately to hold the seat.
Ms. Gillibrand called Mr. Cuomo a "problem solver" and "someone who can certainly cross party lines."
"He's got a real agenda for creating jobs and giving opportunity and hope to our families, and I think that makes a difference in a district like my old district," she said.
It's not clear this year that voters will be inclined to vote straight party lines, but it will be up to Mr. Cuomo to draw Democrats and Democratically inclined independents to the polls, particularly in parts of the state that don't have any particularly competitive down-ballot elections happening.
"The turnout is key. People aren't voting straight party lines necessarily," said pollster Lee Miringoff, who directs the Marist Institute of Public Opinion. "If the Democratic turnout is a little depressed, then down-ballot Republicans might stem the tide in New York, which is the opposite of the national tide. The recipe of the electorate might be a little more Republican."
Back in 2006, Mr. Spitzer walloped Republican John Faso, with 69 percent of the vote to Mr. Faso's 29 percent. The 40-point margin–helped along by considerable national anger at a Republican White House and a Republican Congress–moved Democrats a few steps closer to capturing the State Senate, and re-colored three Congressional districts from red to blue.
Two years later, drafting behind President Obama, Democrats swung another three House seats, followed by two special-election wins, reducing the once-proud Republican delegation to a mere two seats. Now, a number of those recent additions find themselves in races where a few points could make a considerable difference: Mr. Murphy, Michael Arcuri, Bill Owens and Dan Maffei upstate; John Hall in Westchester; and, to a slightly lesser extent, Michael McMahon on Staten Island and Tim Bishop on Long Island.
"The way you win a statewide election by a large margin as a Democrat is twofold," said one Democratic consultant. "You have to maximize turnout in New York City, and then you have to win the areas that were traditionally viewed as being Republican but, quite frankly, have voted for Democrats in recent elections."
So far, the bulk of Mr. Cuomo's public campaigning has taken place in traditionally Republican areas upstate, where the attorney general recently rambled through on two summer RV tours, and where the Democratic Party hopes his coattails can help maintain shaky Democratic majorities in both the State Senate–where the party holds a wobbly one-vote edge–and the U.S. House.
The high-water mark for Democratic encroachment–at least geographically–remains Senator Chuck Schumer's 2004 campaign, when he swept 61 of the state's 62 counties. (Hamilton County–population 5,000–was the lone holdout.)
And while that kind of domination is likely to elude either Democrat in such an anti-establishment year–with plenty of voter anger now directed at President Obama, instead of President Bush–Mr. Cuomo has outlined a sort of Schumer-esque, middle-of-the-road agenda that appears to be squarely targeted at the frustrated swing voter. And while it remains to be seen how many Republican votes he can actually convert, his centrist platform appears to be at least palatable to those statewide Republicans who aren't directly running against him.
In a breezy corridor of City Hall Park on Monday afternoon, after a glowing endorsement from Mayor Bloomberg, Harry Wilson–the Republican candidate for comptroller–was asked about a New York Post report that morning, in which unnamed sources floated the possibility Mr. Wilson might cross party lines to support Mr. Cuomo's bid for governor.
"When it comes to issues like endorsements, I've really not been engaged," Mr. Wilson demurred, though his spokesman had conceded to the Post that he was "in general agreement with Cuomo's fiscal reforms."
And that morning, the Daily News had its own item about emissaries of Mr. Bloomberg trying to curry Mr. Cuomo's favor for the Republican candidate for attorney general, Staten Island District Attorney Dan Donovan–on the grounds that Mr. Donovan would be a more reliable ally than some in his own party.
"He's promoting ideas that from a fiscal point of view are easy for Republicans to support–capping taxes, trying to control spending, rein in the size of government," said Mike McKeon, a former Pataki aide (and registered lobbyist) who is spearheading Republicans for Cuomo. "All those are great ideas that I think have great appeal to Republicans."
And, with any luck, that appeal will be reflected in the final margin.
"I hope so. That's what we're all working for," said Mr. McKeon. "If he was promoting a wildly liberal, Working Families Party-style agenda, I don't think there'd be any Republicans coming to his side no matter how clear his victory was going to be in November."
Mr. McKeon was speaking one day after Mr. Cuomo accepted the nod of the Working Families Party, which–in the interest of its own survival–swallowed hard and "proudly" backed Mr. Cuomo's agenda on Sunday afternoon, after he issued a public ultimatum that the party accept his entire package as a condition for the privilege of nominating him as their standard-bearer.
But while the WFP and other unions accede to Mr. Cuomo's seeming inevitability, it is unclear exactly how much enthusiasm they will care to muster for a platform of property tax caps and pension reform, measures that have long been anathema to public-sector unions. Unless the unions are sufficiently motivated by other Democratic candidates, Mr. Cuomo's hardball could keep a reliable bloc of downstate Democratic voters away from the polls.
Meanwhile, the field operation constructed by President Obama–whose administration had encouraged Mr. Cuomo's run against a pre-implosion David Paterson–is now doing its best to make sure Democratic voters turn out for him. In August, Organizing for America sent out an email to its supporters that was entirely focused on Albany, decrying the state's dysfunction and championing Mr. Cuomo as a pillar of reform.
"Will you join his campaign?" the email asked, with a link to Mr. Cuomo's Web site.
But while Mr. Cuomo positions himself as the man to clean up the statehouse, it is an open question whether anger at Albany trumps anger at Washington.
"I think the Congressional races, for a lack of a better term, are neighborhood races; they're very different than a statewide race," said one Republican operative who is advising a House candidate and didn't seem particularly bothered by Mr. Cuomo's current poll numbers. "Right now, from the Congressional standpoint, people are pissed off about Congress. Congress has lower ratings than just about anybody."
And there's always the possibility that voters opt for discontent, in the form of both Mr. Cuomo and Republican challengers.
"The attack is on Albany; it's not about anything else in New York. It's about those in power, and so long as he can position himself as the guy who people should be anxious to see in power because he'll clean up whatever problem there is, his numbers will continue to move," said veteran Democratic consultant Hank Sheinkopf.
But there's no guarantee he'll move the numbers for the Democrats beneath him on the ballot line.
"The era of tickets is over. People are voting on candidates and they're voting on the feeling of the moment as it pertains to those candidates. Tickets don't matter this year," he said. "Andrew Cuomo's popularity is significant and deep, and it will succeed in electing Andrew Cuomo."
rpillifant@observer.com