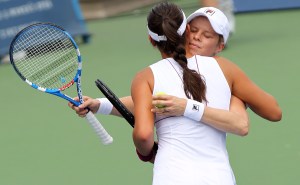 Kim Clijsters is friendly to a fault. Unlike some players who are totally unapproachable, if you pass by Clijsters on the grounds here there's a good chance she'll say hello for no reason at all. Just look at that picture of her and her kid! Also, she's so in love with her husband! This is a great person. Before she won her first U.S. Open in 2005 she underpeformed and commentators often attributed it to her friendliness. Obviously, with her two Grand Slams since, Clijsters has demonstrated you can be nice and good.
We have first-hand experience with Ana Ivanovic's niceness. Even after she bottomed out and lost in the First Round here last year, she gave a ridiculously cordial performance in her presser last year, at a moment when any other number of stars would have been just awful to be around. Once Ivanovic lost her no. 1 ranking, we heard the same thing about Ivanovic that was once latched to Clijsters: She's just too nice.
I'm not sure if that's a bad thing, but these two aren't hiding it.
"She and I are good friends, and I'm happy to see her doing well again," said Clijsters after her last match.
"It's true also when I was struggling, she was messaging me," said Ivanovic after her third round victory. "She was very supportive. That's really rare and really nice to see. In those times, you know who your friends are. She's definitely a nice girl. We always have a nice time catching up."
I mean this sincerely: Aww. That is really nice!
Onto the match. Even though Clijsters hasn't done much since her improbable victory here last year, she's been described in the press as a favorite to win again. I don't see it. Ivanovic is slowly, quietly and steadily regaining her form that once brought her to the no. 1 ranking and a French Open championship. The last time she played on the Ashe court for a Fourth Round day match on CBS, she couldn't hold a candle to Venus Williams. But this is a different player now from the one three years ago. As Ivanovic has said herself, she has nothing to lose. She's going to play the role of spoiler in this U.S. Open and it'll start tomorrow morning. Look for a stunning upset with Ivanovic's victory that will probably get more recognition than her French Open victory.