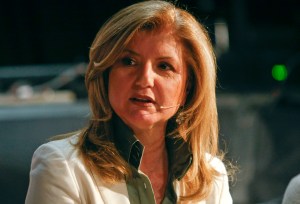 Arianna Huffington announced early this morning in a release that she has hired New York Times economics writer Peter Goodman as a a business editor. He will oversee all business and technology for the The Huffington Post.
Mr. Goodman worked on The Times' 2008 Pulitzer-winning series about the financial crisis, "The Reckoning," and his last Times byline was on August 29. "I also share an editorial point-of-view with Arianna and the HuffPost team," Mr. Goodman said in the release, "that the central focus of our mission should be ferreting out truth, chronicling the lives of ordinary people, and delivering clarity to the readership, while not merely settling for access to powerful corridors."
We have officially entered Phase II of The Huffington Post, in which the site will throw around big money to steal talent from traditional outlets. Over the weekend, Ms. Huffington announced that she hired Howard Fineman from Newsweek.
"This is an example of how the Huffington Post, because of our traffic and our ability to help shape the national conversation, has demonstrated we can have an impact," Ms. Huffington said in an interview with Howard Kurtz. "Traditional journalists can come to us and not give up any of that impact. Often they can increase it."