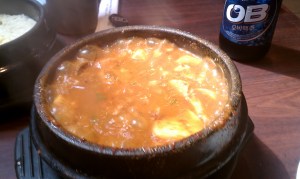 An occasional series on the city's best dishes. 
Dish: Soon-Tofu (or Soon Du Bu), Korean soft tofu stew. Offered in several varieties, the "combination" or Sukh Soon Du Bu includes kimchee, shellfish, pork and beef.
Where to get it: Book Chang Dong Soon Tofu (152-22 Northern Blvd, Queens); Natural Tofu House (34 E. 32nd St, Manhattan 2nd Floor)
Price: Around $10 (includes banchan, traditional Korean small-plate appetizers)
Booze: Best appreciated with cold Korean lager and soju.
When I was first invited to lunch at Beverly Tofu House in Los Angeles, I mistakenly imagined humorless vegetarians fussing over the subtlety of what most Americans consider a meat substitute. But on entering the restaurant, nestled in a bleak K-town strip mall, I discovered something altogether more enticing: a tiny temple devoted to Soon Tofu, a red-hot stew featuring diced meats (vegetarians, whom I admire, actually won't find much on the menu here), kimchee, shellfish and silky homemade Korean soft tofu.
Returning to New York with hopes of reliving the experience, my search led me to the Korean eateries stacked six floors high along 32nd Street between Broadway and Fifth Ave., and to another collection clustered in and around Flushing.
Natural Tofu House in Manhattan and Book Chang Doon Tofu House in Queens stood out as the best establishments at which to sample this unforgettable dish. Tofu originated in the Han dynasty as a protein-rich vegetarian delicacy, but as Buddhism spread through Asia, so did tofu's various culinary interpretations which—as in the case of Soon Tofu—resulted some decidedly carnivorous recipes.
The "S-1" or "Sukuh Soon Du Bu" at Book Chang Dong contains no less than four meats in a volcanic symphony of heat and flavor. Soon Tofu is fire-engine red and served at a ferocious boil in small cast-iron cauldrons. An optional raw egg is cracked into it tableside, but to be honest the egg, much like the tofu, is not actually the featured element but seems to be present to provide some neutral relief from the intensity of the garlic- and red chili-infused broth. The stew remains boiling for several minutes after it's served: The egg cooks while the shellfish tremble, and if you get too close it's easy to imagine what tear-gas might feel like.
That first shallow spoonful is dangerous if attempted too soon, but the perfection of the broth tends to make enthusiasts forget the one-two-punch of blistering heat and unforgiving spice. Look, eating Soon-Tofu is a war, and I am a warrior who strongly recommends one select "extra spicy" from the four spice-level options. (However it would be irresponsible not to mention as tastefully as possible that this choice involves consequences.) Soon Tofu is offered in many Korean BBQ restaurants but specialty "tofu houses" elevate the dish to a higher level altogether. Though the dish is traditionally cherished during the winter, I welcome this delicious battle year-round with tears streaming down my cheeks and ice-cold OB Lager numbing the pain.
Below, stunning video of the S-1 at Book Chang Doon, bubbling away.