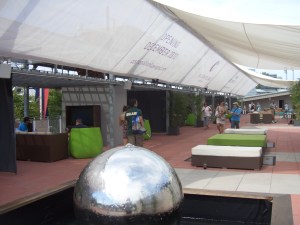 For the last week, the Open's daily program has been advertising a new place to eat. Considering Sam Sifton's review of the food court, this seemed like a blessing. It's called "Overlook presented by The Cosmpolitan of Las Vegas." It's actually located on the roof of the food court stations and it promises a full bar, a big menu and a "panoramic view of the grounds." This seemed pretty exciting to me. The view from up there sounded like it did have potential. Also, I'm getting a little tired of the media cafeteria and my Close Encounters-like plate of mash potatoes, so why not!
Well, I could not believe the world I stepped into. If you don't like tennis or anything that has to do with the U.S. Open grounds, you should definitely spend your time up here. You basically aren't at the Open at all. The folks at The Cosmpolitan take a lot of effort to make you feel like you're…I don't know; is this what it's like in Vegas? You're well-secured from anything related to tennis thanks to the cabana, the oversize couches, the absurd fountains and water fixtures, the folding fans or those little machines that releases mist into the air every 30 seconds or so. There are flat screen TVs tuned into the Sam Querrey match, but I barely could hear the volume from ESPN2. No, the crazy techno music was about all I could pick up.
Then, I checked out the menu, and forget it! I thought the food court was expensive. If you want a "Duo of Shrimp," which includes chilled poached shrimp, shrimp and avocado and gazpacho shots, it'll run you to $68. Or you can get the rare tuna for $59. Or the Long Island lobster rolls for $48. These dishes promise to feed three or four, but god. Can there really be that much? If you're eating solo, try the artichoke and prosciutto tartine…for $19.
Anyway, I couldn't run out of there fast enough. Suddenly, the once sad-looking food court looked like a mecca to me. At least there are big screens tuned into tennis. At least the only noises are from tennis courts. A place that doesn't hate tennis!