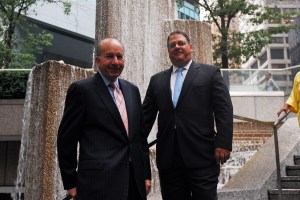 On any given day, bustling Hunts Point Terminal Market in the Bronx receives juicy strawberries by the bushel from California, watermelons from Arizona and fresh corn, compliments of Iowa.
As the world's largest produce market, its annual revenues exceed $2 billion, thanks in no small part to the steady stream of tractor-trailer, rail and air deliveries that supply thousands of grocers and restaurants from New England on down to Virginia with fruit and vegetables from across the globe.
So, while many think of Wall Street upon mention of the markets, a lesser-known type of trading happens every day, far north of either the New York Stock Exchange or even the NASDAQ.
For veteran brokers Michael Shenot and Paul Mas of Jones Lang LaSalle, however, it's the only market in town. And to hear it from them, it could leave the city when its lease ends next year.
"It would be like Manhattan losing the Stock Exchange if the produce market left New York," said Mr. Mas, a Jones Lang LaSalle managing director hired by the Bronx market in July to evaluate its real estate options coming into 2011.
Faced with an aging infrastructure and increasing government oversight, executives at the Hunts Point Terminal Produce Cooperative, by which it's formally referred, are considering expansion plans that may keep them on Halleck Street in the Bronx or push them out of New York, to New Jersey perhaps.
With term sheets expected to be finished within weeks, the question will be whether the four aging buildings that comprise 475,000 square feet of cooperative space will remain as the terminal market's home.
As a cooperative, the 46 member firms that set the market for produce at the terminal will each have a single vote when it comes time to decide on what to do with the lease when it expires.
Among the biggest questions will be how, exactly, to modernize the facility. As a result of city, state and federal regulations implemented over the past several decades to ensure food safety, the co-operative has struggled to update its deteriorating buildings. Twenty years ago, for example, only 20 percent of the produce needed to be stored in cooling trucks; these days, nearly all of it must be cooled in temperature-controlled storage areas.
"What has happened is that the facility now is impeding them from growing the business and continuing to run it in an efficient manner," conceded Mr. Shenot, who said he and Mr. Mas have been hired to run a logistical analysis of the buildings as well as construction estimates and infrastructure studies.
"There are serious issues to staying in place," added Mr. Shenot, who said the existing lease has an extension clause that would allow the member firms to stay past August, when it's set to expire. "And it's going to be costly for them to stay."
"What we've said to our client and we've said to the city and we've said to others who would like them to leave the city is, 'Look, we're trying to solve for the New York premium,'" Mr. Mas added. "We know there's a premium to be in New York, and the question now is what is the breaking point?"
SINCE FIRST JOINING forces at Jones Lang LaSalle in 2004, Messrs. Shenot and Mas have completed 30 deals. As both men will admit, their success as a team has been buoyed by Mr. Shenot's financing expertise and Mr. Mas' deep knowledge of raw, undeveloped sites.
Among their earliest deals, they said, was a transaction for State Street Bank during the days when Mr. Shenot was still working in the real estate department of Merrill Lynch and Mr. Mas was at Abrams Benisch Riker.
At the time, Merrill Lynch was a major partner with Olympia & York, but when the development firm filed for bankruptcy in 1993, Merrill inherited much of their property. As a result, Mr. Shenot was tasked 10 years later with leasing space at some of the newly acquired buildings, among them the World Financial Center. As an ABR broker representing State Street Bank, Mr. Mas found space for his client at the Center, as well as a future partner.
"We've worked well together," said Mr. Mas, 56, who said that about half of their transactions are composed of office leases. "We're not big on the salesmanship. But we tend to get hired as a team, more because of our reputation in these markets. There really aren't that many people in town who can do what our team can do."
Since that transaction, their winning combination of skills has come in handy during deals for a wide range of clients, including MF Global, the U.S. Postal Service and the Metropolitan Transportation Authority, among others.
With the M.T.A. in particular, the pair advised the agency in its air rights negotiations at the West Side rail yards. With each developer who showed interest at the site, the pair used their respective skills to evaluate how each of their business plans would impact everything from rail operations and train delays to construction costs.
"Each developer had a little different view on how they might approach the construction of the site," said Mr. Shenot, 49, a New York native hired by JLL following real estate positions at Merrill Lynch and Goldman Sachs. "So my team ran the process, put forth the RFP, put in all the bids for the M.T.A. and analyzed them all from a financial perspective, from a construction perspective and from each developers' ability to close."
As with the massive rail yards assignment, Mr. Mas said work on behalf of the Hunts Point Terminal Market is moving full speed ahead.
"The best way to say it is, everyone is rolling up their sleeves now to put together a document that says, 'Here are the terms, and here are all the business points,' which is a really big undertaking," said Mr. Mas. "It's a big undertaking, but it's happening fast."
jsederstrom@observer.com