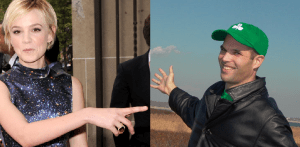 As I wrote in this week's Observer, Oliver Stone's Wall Street sequel Money Never Sleeps turns out to be an exceedingly odd version of the story of the financial crisis. By far, the most memorably specific reference to the last three years is a bombshell exposé that Carey Mulligan's character, Gordon Gekko's daughter, posts to her Web site, Frozen Truth. "The first thing you need to know about Churchill Schwartz is that it's everywhere," its first line, referring to a firm in the movie, goes.
Except for the bank name, the sentence is a word-for-word recreation of the opening to Matt Taibbi's Rolling Stone epic about the Goldman Sachs vampire squid.
Oddly, Frozen Truth turns out to be a real Web site. But it's a life-blog written by a Canadian interested in things like "integral consciousness." His name is Apollo Lemmon. "I was very surprised to learn that it had been used by someone else," Mr. Lemmon wrote The Observer after deadline, when asked about the name, "and doubly surprised that it had been used by someone such as Oliver Stone. I haven't been contacted by anyone involved with the film. I imagine it was an oversight."
The real Frozen Truth, according to a tag cloud on the site, includes the Canadian's thoughts on meditation, science fiction, transhumanism, Ken Wilber, polyamory, exercise and film.