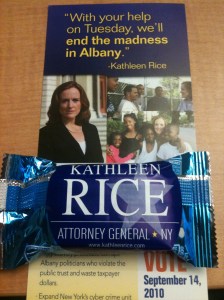 From yesterday, actually, but district attorney Rice spent the last few hours before polls opened this morning greeting the thrust of commuters headed to the Long Island Railroad at Penn Station. The throng was swelled with rowdy football fans in Jets and Ravens jerseys who were headed to last night's opener at the New Meadowlands stadium.
A group of some Jets fans carrying cases of Coors Light accused her of being related to Ravens running back Ray Rice, and said in essence, that the district attorney could hold onto her palm cards.
Rice had at least a half-dozen people passing out literature and Rice Krispie treats with her name on them, who yelled, "Meet your next attorney general! Kathleen Rice!" at passersby.
The Rice campaign will be relying heavily today on late robo-calls from Calvin Butts (listen above) and Gloria Steinham, and hoping for major turnout in Long Island and the parts of Brooklyn and Queens where the county parties that have endorsed her can still turn out votes.