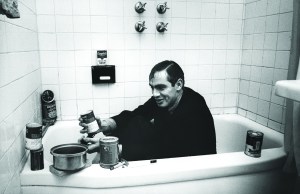 Three decades ago, Gilbert Rogin stood astride the New York publishing world like some be-Speedoed colossus. A prodigious swimmer who drooped and sickened if he had to forgo his daily laps, Mr. Rogin had just been named managing editor of Sports Illustrated. A fiction writer who elevated the Jewish male Manhattanite's midlife experience to transcendent heights, he'd seen 33 of his short stories appear in The New Yorker.
His latest novel, Preparations for the Ascent, was being praised as a triumph of both interior fiction and self-revelation. Among the biggest fans were John Cheever and Frederick Exley, the author of the celebrated memoir A Fan's Notes. Exley called Mr. Rogin "the best writer of our generation," one that included John Updike and Philip Roth. Updike placed Mr. Rogin in his own literary pantheon and linked him with Polish novelist Bruno Schulz as "writers in a world of hidden citizens" who "work with an excited precision, pulling silver threads from the coarse texture of daily life."
But in the spring of 1980, Mr. Rogin, 50 years old and seemingly at the top of his game, submitted a new short story to Roger Angell, the baseball essayist who was then chief fiction editor at The New Yorker. Mr. Angell passed, telling Mr. Rogin, "You're repeating yourself."
To Mr. Rogin–one of the most irascible (often intemperately so) characters in the history of New York publishing–Mr. Angell's critique wasn't sensible, level-headed disapproval, but an attempt to diminish him. "That motherfucker literally demoralized me," Mr. Rogin recently recalled, leaning on a walker in the kitchen of his Westport, Conn., home. "Repeating myself? I repeated myself in all my stories. My entire life is repetition."
When Rogin said he was 33 for 44 with The New Yorker, Barthleme snapped, 'Gil, what are you complaining about? Your batting average is higher than mine.'
He sighed and swung awkwardly into a chair at the kitchen table. Even when he is seated and reminiscing, there's a sort of turbulence about Mr. Rogin–a constant, restless, undirected energy, like a page of newsprint blowing down Fifth Avenue.
"Repeating myself? Maybe I was repeating myself. Maybe I knew I was all used up–that I'd exhausted the vein. The idea had always been in the back of my mind. But Cheever repeated himself. And Roth repeated himself. Saul Bellow, after a while, essentially repeated himself. So did fucking Tolstoy! Haydn kept writing variations of the same symphony until he got it right."
So what he did tell Mr. Angell?
"I didn't tell him anything," Mr. Rogin said. "No one had ever said anything like that to me before. I thought it was beneath me to ask how that bonehead thought I could make the story work. His rejection was like a put-down of me and what I was about."
Mr. Rogin has not written another word of fiction since.
That Mr. Rogin took Mr. Angell's criticism personally should come as no surprise. Told that the Russians were boycotting the 1984 Olympics, Mr. Rogin carped, "Why are they doing this to me?" Next month, Verse Chorus Press will republish Mr. Rogin's two long-out-of-print novels–linked stories that comprise a tale of a marriage and its entropic dissolution–in a single volume. "Some chapters are so terrible that I can't bear reading them," he said. "Others are so brilliant that tears stand in my eyes."
He might just as well have been describing his 38 years at Time Inc., a span in which he rose from the clip desk of SI to a corporate editorship. In the latter post, he oversaw and assiduously, if not acidly, critiqued Fortune, People, Life, Money and other magazines, as well as godfathered new ones like VIBE with Quincy Jones, who still calls him Mack Daddy G.
"Gil has a fearsome intellectual curiosity," said his friend Isolde Motley, who succeeded him as corporate editor. "A short walk can get you from the German intellectual Walter Benjamin to butthole plugs via early Nigerian rap and Martha Stewart's sex appeal (high, in his view)."
Born in Brooklyn to a Broadway actress and a stage-door Johnny, Mr. Rogin was raised in Manhattan and graduated from Columbia College, where he drew comic books and discovered James Joyce. Like Stephen Dedalus, Mr. Rogin is in a permanent state of war with himself.
"Half of Gil is convinced of our decay, our entropy, our slide into knuckleheadness," said Kenny Moore, his onetime protégé. "The other half rages against all that. And out of that tension comes his work."
Mr. Rogin's protagonists move warily through their own lives, forever kvetching about the inscrutability of the natural world, about the stupidity of their fellow man, about tulips planted upside-down. Self-inventorying solipsists, they talk and talk and talk about their obsessions, their psyches and their phallic power–thinking and talking and fucking themselves into existentially richer moments of being. (At one point in Preparations for the Ascent, Mr. Rogin's hero measures his penis against a World Series ticket, proving once again that baseball is a game of inches.)
"My protagonists are all parodic figures of me, exaggerated burlesques," Mr. Rogin said. "I didn't set out to write about myself, but then what else could I use?" In the 1980s, he used to mull such existential points with Donald Barthleme, who lived near his apartment in the West Village. The two would compare their rates of acceptance by The New Yorker. When Mr. Rogin said he was 33 for 44, Barthleme snapped, "Gil, what are you complaining about? Your batting average is higher than mine."