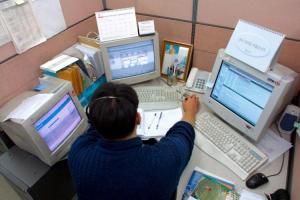 If your internet seemed a little slower today, or perhaps not even there at all at times, blame this: a major computer virus spread via email slamming servers at some heavy-duty websites. Affected sites include Google, NASA and Comcast. Computer World reports the virus is spread via a worm that comes attached to an email that typically has a subject line reading, "Here you have…" Anyone unwary enough to click on what looks like a link to a PDF embedded in the message is directed to a site that asks to download a screensaver file onto your computer. Users who are truly asleep at the wheel and click okay to install the screensaver are gifted with a worm that then propagates to the victim's contact list.
Admins who confronted this cyber-disaster today must have felt like it was 2001 all over again:
The worm is similar to the ILoveYou and Anna Kournikova worms, which spread in 2000 and 2001, and is a type of malware that has not been a major problem since around 2002 […]
The worm's specific name is VBMania. It basically leads to a flood of spam, which then overloads servers, taking them offline.
Fox reports that the Dept. of Homeland Security takes the bug very seriously:
DHS spokeswoman Amy Kudwa said that Homeland Security's experts were investigating the situation. She explained the U.S. Computer Emergency Readiness Team — US-CERT, the agency tasked with preventing cyber attacks against the government — was actively sharing its expertise with departments and agencies that had been affected, as well as private companies.