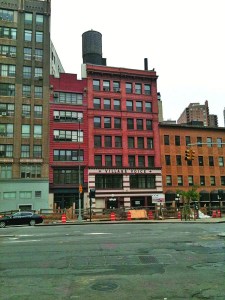 It didn't cause much of a stir, the pronouncement that the words branded across the front of 36 Cooper Square would have to go. Maybe because the building's tenant roster now reads more like an assemblage of techies and new-media ecclesiae than old-school publishers, or maybe because the letters themselves, righteous block typeface, had accumulated new meaning behind them, more trademarked brand than brick-and-mortar incarnation of a fabled masthead. "Village Voice," the letters spell, their reverberations of dissent and hard-boiled skepticism largely subsumed into the implicit "Media Holdings, LLC."
There's The Voice, the sometimes fractious and unfailingly impassioned upstart founded in a Greenwich Village townhouse (co-founder Norman Mailer railed in the first issue that it was "remarkably conservative for so young a paper"), and then there's Village Voice Media, the corporate amoeba hatched in a Phoenix, Ariz., boardroom that merged into one big alt-weekly conglomerate, combining the advertising revenues of 14 metropolitan weeklies from across the country. (The company also owns backpage.com, which just last week Connecticut Attorney General Richard Blumenthal estimated would reel in $17.5 million from prostitution ads this year.)
The buying and selling of The Voice is nothing new, of course. The paper's history is a who's who of curious and curiouser New York power brokers, each unlikelier than the next to preside over a rag that once peddled in radical cred.
Early among them was the late Clay Felker, creator of New York magazine's much-emulated enterprise in glossily decoding the labyrinths of urban sociology. "Print must be for the educated and affluent elite," Felker often said. Not surprisingly, his takeover was less than enthusiastically received by the Voice staff. Writer Ron Rosenbaum tore up his paycheck and reportedly told the new owner, "There is no amount of money that can make me work for the piece of shit that you have turned this paper into."
Next came Rupert Murdoch, instating David Schneiderman as editor. "[Murdoch] once said to me that he could not understand how a bunch of Communists could manage a paper so well," recalled Mr. Schneiderman in a 2005 memo announcing the merger with alt-weekly chain New Times. "I responded that we had concluded that if we did a good job, we might live to publish another issue of the Voice." The Voice did continue to publish, but no less significantly, in Mr. Murdoch's estimation and then in that of his successor, Hartz Mountain Pet Products heir Leonard Stern, Mr. Schneiderman did not just a good job but a highly commendable one.
Exchanging his editing title for publisher and then CEO of Village Voice Media, he developed a kind of alchemy for transfiguring smudgy classifieds into a highly efficient national revenue stream. The deal with New Times was rumored to earn him a half-million-dollar sum, a neat trick for a communist.
Mr. Stern, the man who made Mr. Schneiderman publisher, ranks No. 249 on Forbes' list of billionaires. He's credited with the controversial decision to start giving the paper away, a move that either demeaned The Voice's status or prophetically preempted the coming digital ethos of free, depending on whom you ask. Either way, in the long tradition of selling to an ever-bigger market share, Mr. Stern brokered The Voice's subsequent buyout by a group of investors and a private-equity firm.
HAVING SOLD THE family pet-products business, Mr. Stern then channeled his fortune into a budding real estate empire. Among his 38 million square feet is the unremarkable Cooper Square structure that briefly threatened to shed its Voice insignia.
It's a building that The Voice moved to in 1991 from its original offices off Sheridan Square, and that it currently shares with the prolifically hyped social networking start-up Foursquare, along with blogs Curbed and Eater, both listed as partners of Village Voice Media's online local ad networking. The premise of Foursquare isn't all that different from the Voice advertising model–target an 18-to-34-year-old urban demographic and monetize social interaction and nightlife–but without the unwieldy burden of journalism.
Like the founding Voicers in a long-gone Village of low rents and a creative underclass, maybe the tech impresarios of 36 Cooper Square are harbingers of things to come. It took a few years, but when The Voice caught on–or when the national current caught up–circulation numbers and profits skyrocketed. Founding editor Dan Wolf said of the phenomenon, "We concluded that there is a 'secret' group in America that is somehow vaguely uneasy about life in Peoria. They found us. We found some of them."
But profits and dissent would make for an awkward marriage, it turned out. Voice owner Michael Lacey, for instance, upon taking over San Francisco's SF Weekly in 1995, was quick to slash political endorsements and cut back coverage of City Hall. ("Not what the 18-to-35 demographic wanted," according to The Stranger's account.) Some of The Voice's founding writers might contend that today's pages dispensed from gritty plastic boxes on sidewalks all across the city are the ancillary byproduct of a slick, geo-targeted lifestyle-and-commerce hybrid. They'd also have to concede that the paper proves good reporting can nonetheless survive in even the unlikeliest of circumstances.
The Voice, the late Dan Wolf wrote, was dreamed up in a time when "the vulgarities of McCarthyism had withered the possibilities of a true dialogue between people. … The best minds in America–radical and conservative–were repeating themselves."
It might be too hopeful to say it's the possibility of dialogue–the belief, shared by journalists and social-media acolytes alike, that voices respond to other voices–that sparks the interface between the physical, brick-and-mortar New York and the future-tense, eternally-up-for-debate city.
At 36 Cooper Square, landlord and tenant came to a deal: The letters can stay, but The Voice has to take them when it goes.
egeminder@observer.com