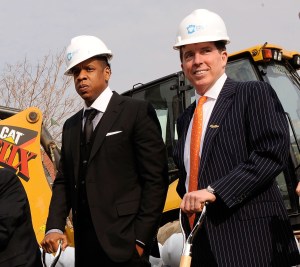 Barclays, the British banking giant that bought Lehman Brothers shortly after its September 2008 bankruptcy, today announced that John Varley would be stepping down as CEO on March 31. Bob Diamond (pictured with Jay-Z at the March 11 Atlantic Yards groundbreaking ceremony in Brooklyn) will succeed Varley.
Diamond, originally from Massachusetts, has been with Barclays for 14 years and currently serves as president in charge of corporate and investment banking and Barclays Wealth. He played a key role in Barclays' purchase of Lehman.
The Lehman Brothers estate, which as one might expect has been highly litigious of late, is curently waging a legal battle with Barclays over an alleged $5 billion windfall Barclays realized as a result of buying some of Lehman's assets.
Jerry del Missler and Rich Ricci will jointly take over stewardship of Barclays Capital and corporate invetsment banking.
Separately, thanks to a grant from the government of Scotland Barclays is planning to create as many as 600 jobs in Glasgow by building a new facility for its investment banking and wealth management division.