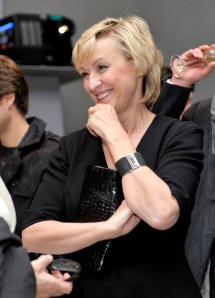 Earlier tonight Tina Brown and Miles Nadal co-hosted a book party for Harold Ford Jr.'s More Davids Than Goliaths at Barbetta on West 46th Street. Drinks were in the garden.
The Observer asked Ms. Brown, who edits The Daily Beast, about a rumor that she was interested in leaving the news website that she founded to help relaunch Newsweek under new ownership.
"I'm not serious about Newsweek," she said laughing. "I'm a Beast down to my toes." Ms. Brown turned away to speak to one of her guests.
We broached the topic again later. "I'm not serious about the Newsweek thing!" she said. "I'm serious about The Daily Beast."
Did Ms. Brown have any idea where the rumors came from?
"I have no idea," she said. The Observer suggested that she's the only person who could know if a rumor like that had any basis in fact. Was she interested at all in editing Newsweek?
"Believe me, before I give you my spout over here like three times that 'I'm committed to my Daily Beast,'" she said.
Recently Ms. Brown has been at work on a redesign for the site.
"It takes so long to redo things on the website," she said. "You think you can change things but you can't. And then suddenly it has to sit there for like a year and a half with all the things you hated."
But everything is going well?
"The Beast is feral!" she said. "The Beast is a-roar."
zturner@observer.com / @zekeft