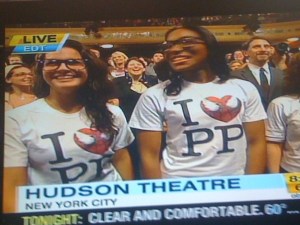 In this morning's Times, Pat Healy has a profile of Michael Cohl, lead producer for the prodigal musical, Spider-Man: Turn Off the Dark. The story offers an open look at the project's finances that will be refreshing to anyone tired of the Post's gloating ("Goblin' Up 'Spider-Man' Bucks").
Cohl, whose background is in concert promotion, raised about 70 percent of the musical's $60 million budget last year, which he confirmed for the first time to The Times. The show will cost about $1 million per week to keep running, so it's essentially got to be a Wicked-scale success out of the gate. Though, the article does note that Wicked cost $14 million when it debuted in 2003.
"I got involved because I believed deeply in three artists: Bono, Edge, [director] Julie [Taymor]," he said. "But there have been a lot of moments over the last year when I said, 'This isn't doable,' when I went home and thought: 'What am I doing? I could be on a beach in Florida.' "
The show had a preview this morning on Good Morning America. Cohl holds out hope for a Cirque du Soleil-style tour for the musical to further recoup costs. But enough with the pessimism! Did you hear Spider-man flies around the room at 40 mph?