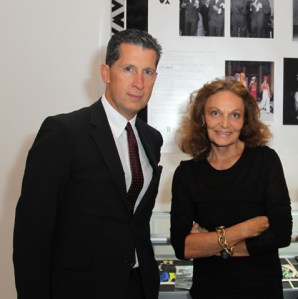 Stefano Tonchi — the editor of W and, to put it lightly, a very sharp dressed man — stood unblinking at the DVF Studio in the Meatpacking District Wednesday night. His hand held no cocktail, and he waved off a number of the choice hors d'oeuvres: seared tuna, quiche, salmon roe. He posed for a few pictures and then talked to The Observer about Walter Albini and His Times: All Power to the Imagination, the new book he wrote with curator Maria Luisa Frisa, and the reason for the night's festivities. Walter Albini, of course, was the flashy and brilliant Italian photographer who took pictures of beautiful naked people, lived fast, died young, et cetera.
"They talk about him as the third genius of his generation, with Karl Lagerfeld and Yves Saint Laurent," Mr. Tonchi told us. "Same age, same time."
Diane von Furstenberg's studio sits in a blocky warehouse that lies in the shadow of the Standard Hotel. The main floor has some Diane-designed looks in its windows. Facades of silver and glass jut together to form a grand sleek staircase. Also, an oversized disco ball rests somewhat ominously on the floor. Even if you can't get invited inside, it's all over MTV's The City. We don't watch or anything, but apparently it's prominently featured.
We got ushered in to that bastion of high fashion to fête the launch of the heavy and expensive book. The bar was serving sweet tea and vodka, an odd choice of cocktail that we last encountered at the Kirna Zabete party on Fashion's Night Out. Trend alert!
Ms. von Furstenberg herself made an appearance at the party, fresh off her extended romp around the runway. Her tan pants were done up with impressionistic splatters, and on her wrist she wore a gold chain bracelet.
"Did you like it?" she asked us about the show she presented last Sunday at Lincoln Center. We told her that we enjoyed it very much.
Then we got to talking about Fashion Week in general, and how it would soon come to an end.
"New York has become very dynamic, and I'm very happy," she said.