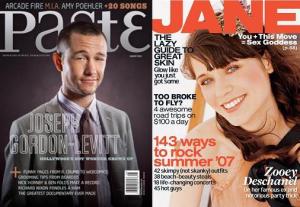 Just before Jane Magazine folded in 2007, it featured Zooey Deschanel on the cover. "I'm always looking for school uniforms, trying to squeeze into kids' clothing," she said in her interview. "It's sort of a party trick, the way I can get myself into tiny dresses." Just before Domino was closed, Ms. Deschanel once again graced the front of one of its last issues. "Bold happy colors," her cover said, "chic storage for every room, smart makeovers & more!" And with yesterday's announcement that Paste will no longer continue, the person with the dubious honor of closing that magazine's tenure on newsstands is Joseph Gordon-Levitt, Ms. Deschanel's would-be soulmate in the humerous and precious (500) Days of Summer.
These magazines have been felled by the Curse of the Twee.
The fact that Mr. Gordon-Levitt and Ms. Deschanel graced three end-of-days covers is, of course, a coincidence. But a cynic would point out that the stars, like their parenthetically-titled romantic comedy last year, are downright fun and colorful and special and digestible and just as adorable as vintage tin lunchboxes, and are missing something. They are uncomplicated! They are gluten-avoiding vegans. Hollywood's great celebrities have always been scarier, or more mysterious, or just on the wrong side of unfathomable and arcane. Like Inception's Leonardo DiCaprio, Cillian Murphy, Ken Watanabe and Michael Caine, but not Mr. Gordon-Levitt, and not Ellen Page either, they are discomforting and itchy. Ms. Deschanel has sung in a cotton ad.
Writing in these pages two years ago, Tom McGeveran penned a wonderful cover story about twee. His opening described the word: There's twee "in the old British sense—twee was adorable baby talk for 'SWEET,'" and a newer American definition, "old-fashioned-looking Wellingtons, fresh vegetables, T-strap Mary Janes, fringes or bangs, marmalade, anoraks and tea in a pretty teacup."
Twee is great, but maybe it can't save magazines.