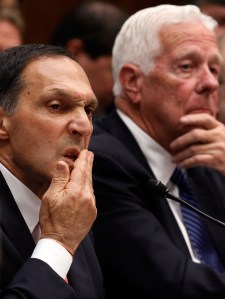 Two banks operated by the bankrupt Lehman Brothers are in danger of failure, Reuters reports.
Documents filed in the U.S. Bankruptcy Court in the Southern District of New York show that Aurora Bank, hampered by regulatory hurdles in issuance of new CDs, is facing a capital shortfall, and Lehman plans to allocate $477 million in cash to the unit. Aurora, once known as Lehman Brothers Bank, is a Delaware-based operation with more than 340,000 customers, according to its website. Similar problems are holding back another Lehman unit, Woodlands Commercial Bank of Salt Lake City.
Lehman said in the court documents that if it can't capitalize these banks, it faces losses ranging from $1.2 billion to $3.6 billion. It also said that it has given $200 million to Woodlands and set aside $72 million more that remains untapped.