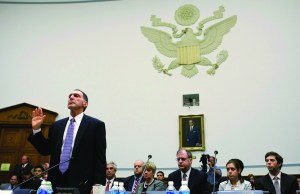 On Sept. 15, 2008, Lehman Brothers filed for bankruptcy, a move that has largely come to date the start of the recession. The same day, in London, a huge auction of the artworks of Damien Hirst soared to $198 million, marking the beginning of the end of that bubble, too.
The worlds of art and Wall Street unite again later this month when, on Sept. 25, Sotheby's will sell the $10 million art collection of Lehman Brothers and of the money manager it bought in 2003 (and has since sold back to its employees), Neuberger Berman. The Sotheby's sale offers a glimpse into Wall Street's glory days, a relic of an age that seems gone for now. Yet, in art at least, the bankers at Lehman and its subsidiaries were no fools. "It's easy to portray this as a frivolous exercise by Wall Streeters–like throwing caviar out a window," said Tobias Meyer, chairman of Sotheby's contemporary art department, but "they actually had a strategy."
VIEW SLIDESHOW > YOUR GUIDE TO BUYING LEHMAN'S ART
Indeed, Neuberger Berman's art advisers and curators were known privately for doing with art what Lehman did with subprime mortgages, which is to say they bottom-fished. They bought works by name artists whom they believed in, like John Baldessari, but who had failed to sell at auction. The strategy required a "buy-and-hold" approach, as the artworks, so recently spurned on the auction block, weren't really salable. But the strategy proved largely successful, as the art market as a whole, and some of the young artists they picked in particular, climbed.
We "bought Rudolf Stingel before [Francois Pinault] did; Mike Kelly before Peter Brant did," said one insider. The company also bought much through leading London dealer Anthony D'Offay, but also purchased pieces through dealers like Marian Goodman, David Zwirner and Andrea Rosen, occasionally negotiating volume discounts.
The most expensive work on the block is Damien Hirst's We've Got Style (The Vessel Collection–Blue), a 1993 piece made early in his career that is expected to bring about $1 million. Takashi Murakami's 1998 Chaos, estimated at a–bout $200,000, is also on the lineup. Lehman, like Goldman Sachs, collected Julie Mehretu (Goldman just installed a Mehretu in its lobby); her Untitled 1 is estimated by Sotheby's at $600,000 to $800,000.
Will the Lehman name be a stigma for collectors? Tellingly, when the sale was first announced, it was called the Lehman auction. By midsummer, though, Sotheby's changed its marketing materials, calling it the Neuberger Berman & Lehman Brothers auction (more works from the Neuberger collection had been added). It's now just called the Neuberger Berman auction (on the Sotheby's Website).
"It's a sad provenance," said leading contemporary art collector Larry Warsh. In terms of pricing of the works, "it's not a fire sale, but it's priced to sell," he said.
The collection, said Richard Polsky, an art dealer and author of a duo of autobiographical histories of the art market, I Bought Andy Warhol and I Sold Andy Warhol (Too Soon), is "a good representative selection of art that's been popular during the first decade of the 2000s. But "the real story is (how) the sale is reminiscent of how many of the major corporations, who collected during the 1980s, wound up selling off their collections–or quit collecting."
Indeed, the 1990s saw big companies ditch their art collections–IBM, U.S. Steel, CBS and Reader's Digest most prominent among them. It was a tradition that when companies hit an unprofitable patch, shareholders would press for the sale of assets seen as frivolous or even vain. What was ironic was that the collections have often been more profitable than the companies selling them. IBM, for example, sold its art collection shortly after a retrenchment at the company that cut 35,000 positions. But the firm's art moves include buying a Frida Kahlo for $2,000 and then selling it in 1995 for $3.2 million.
Today, despite the financial swoon, Deutsche Bank and UBS continue to have two of the largest corporate art collections in the world, and JPMorgan Chase and Goldman Sachs maintain notable collections.
One insider familiar with the Lehman-Neuberger Berman trove estimate that the two companies spent under $2 million on the art and will end up netting four times that.
–Alexandra Peers