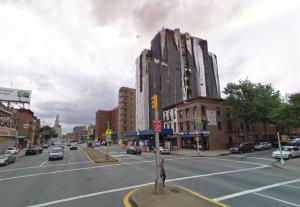 The Journal had an interesting story today about the slower-than expected development of Fourth Avenue in Brooklyn, which was rezoned in 2003 with great hopes for creating "Brooklyn's Park Avenue."
While much of the article is a by-the-numbers status report on what's built and what's stalled, there is an undercurrent emphasizing the importance of a well-designed street:
While the 2003 rezoning resulted in 859 new apartments — either built, under development or in planning — the design of many of the new buildings have come under attack. They've done little to improve the character of the neighborhood or make it more pedestrian friendly because they have parking garages, air vents or concrete slabs at street level rather than shops and cafes, critics say.

The result is that Fourth Avenue remains relatively desolate, attracting little of the street activity that has made Park Slope one of the most desirable neighborhoods in the city.

"If you're going to bring more people to Fourth Avenue, you want it to be a place that's more comfortable to walk," says City Councilman Brad Lander, whose district includes the east side of Fourth Avenue. "Some of these cement walls turn their backs on the neighborhood and make it a much scarier place to walk."
Clearly Jane Jacobs was not consulted in the planning process. The article acknowledges this in a way–this inforgraphic pretty much says it all–by noting how the Department of City Planning has since gone out of its way in ensuring more street-life and retail by requiring them in subsequent rezonings. "Absent a market for the retail space on a newly developing corridor, such a requirement at that time could have discouraged development altogether by making it financially infeasible," Brooklyn planning director Purnima Kapur told the Journal. The only problem is, now that all these unattractive and uninviting buildings have been built, who really wants to live in or around them?
By taking a shortcut early on, City Planning may have cost itself in the long-term. There is no reason not to think this won't get better over time, as more condos replace more auto body shops. But if those buildings continue to be of shlocky quality, the transformation may never fully take place.
Wandering Manhattan's Park Avenue, there actually aren't that many storefronts, arguably fewer than on Fourth Avenue, so a lack of retail can't reasonably be blamed for the difference. On both streets, the cars still whizz by at life-threatening speeds, so it's not the number of lanes or traffic, either. What makes Park Avenue so much nicer than Fourth is that there are nice buildings lining it. Its the same thing that makes Fifth and Seventh avenues just up the Slope so popular. Until the same can be said for Fourth Avenue, it will never be able to compete.