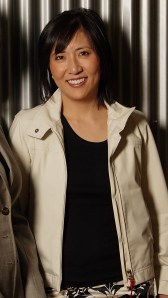 Richard Beckman and Janice Min are scrapping their daily print edition and relaunching The Hollywood Reporter as a weekly, large-format glossy.
The magazine will also have a new website to keep up with entertainment blogs, and a daily PDF full of news will go out to subscribers, who might still be interested in THR as a daily trade publication, according to The New York Times. The move makes sense from both a business and editorial standpoint: Industry advertising has suffered in recent years (see: Variety) and, in the age of Nikki Finke, nobody who is serious about entertainment industry news can afford to publish only once a day.
Sharon Waxman, who is editing The Wrap and has been leading a little campaign against her competition, said she still doesn't understand what Mr. Beckman and Ms. Min are trying to do. "I don't see any business model that supports what they are doing," Ms. Waxman told The Times.
What does Mr. Beckman think? "It makes me laugh to get pigeonholed by these morons."
Mr. Beckman left Condé Nast, where he developed a reputation for spending aggressively to develop the editorial product he had in mind, in January to take over as CEO of e5 Global Media, which owns THR. He plans to quadruple the number of subscribers in the next three years.