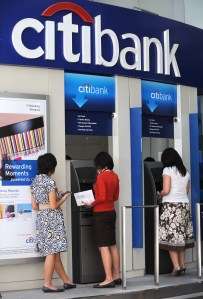 Update: Well, despite her misgivings, Ellen Segal Huvelle of the Federal District Court in DC has approved the $75 million settlement between Citigroup and the Securities and Exchange Commission, The New York Times reports.
That said, Huvelle made a few stipulations:But Judge Ellen Segal Huvelle of the Federal District Court for the District of Columbia told lawyers for the government that she wanted the S.E.C. to certify that the remedies Citigroup claimed to have put in place to prevent a similar failure were adequate and would remain for a given period of time.

The judge also directed that the settlement agreement be reworded to make clear that the $75 million would be used to compensate shareholders who had suffered losses because of Citigroup's misstatements, and she told the S.E.C. and the bank to return in two weeks with new language that did that.

—
One gets the sense that Ellen Segal Huvelle, the presiding judge in the Security and Exchange Commission's lawsuit against Citigroup, isn't angry with the regulator and the bank, just disappointed.
Huvelle's latest complaint has to do with the safeguards Citigroup says it's put in place to prevent the kind of behavior that got it in trouble in the first place, Reuters reports. The SEC accuses Citi of failure to properly disclose to shareholders the increasing toxicity of its subprime assets in 2007. She would like more reassurance that the megabank's disclosure system has improved, so investors don't get ripped off in the future.
"There's nothing in here to address a flawed system; not a thing," she said today.
As for the proposed $75 million penalty, Huvelle appears to have come to terms with it, even though she'd previously faulted it for imposing an unfair burden on current shareholders and failing to adequately punish the people who were in charge at the time. She now thinks it "may be reasonable."
It's hard to imagine Huvelle would ever find the settlement ultra-compelling. Perhaps lawyers for Citigroup and the SEC can simply annoy her into approving it.
mtaylor@observer.com
Twitter: @mbrookstaylor