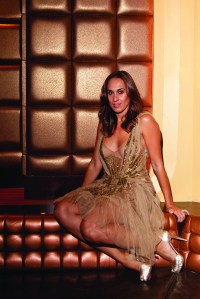 "No matter how much fun I may be having somewhere," said socialite Melissa Berkelhammer, "merely knowing that at some point I have a 25-minute and 25-dollar cab ride to look forward to always looms over my head like this dark cloud."
"There's an enormous amount of energy on the Upper East Side," said the PR agent Alison Brod, like Ms. Berkelhammer an Upper East Sider. "And there's no outlet for this older person who is still going out to dinner pretty much every night up there. At 10:30 at night on a Saturday night or a Thursday night, any night, there is no place to go." Ms. Brod was alluding to a gap she believes the new club Lavo, in the former Au Bar space on East 58th Street, will fill. It was her firm that handled Lavo's opening party during of Fashion Week.
"I know this will sound a tad geriatric," said Ms. Berkelhammer, "but I like that the music [at Lavo] isn't played so loud that you can't hear yourself talk, or think. If you want it, it's there, but you can also actually converse with the people that you came with."
Consider a typical Thursday evening at the new club. It entails something like a reverse Cinderella effect. Arrive around 11 p.m., and you'll have no trouble securing a banquette for yourself and your friends. A cocktail waitress bearing a passing resemblance to Charlotte Ronson will take your order, and you'll all be able to talk to each other in normal speaking voices. It's pleasant, not to say subdued. You'll soon decide you'll be home by 1.
At midnight, though, almost on the dot, the music gets louder and dozens of blondes in tottering heels pour in out of nowhere, clutching the arms of men wearing T-shirts under their blazers. This scene is truer to Lavo's lineage: It's the product of a new collaboration between Jason Strauss, Noah Tepperberg, Richard Wolf and Marc Packer–the nightlife juggernauts whose combined credits include Avenue, Marquee, Stanton Social, Rue 57 and Tao. The fifth partner is the stunning Brazilian Jayma Cardoso, who's been responsible for Cain and GoldBar in the city and Surf Lodge in Montauk.
The New York outpost of a Las Vegas club of the same name, Lavo was designed on the food-above-fun-below model: Its main floor is a large, 180-seat dining room, and the nightclub is downstairs.
Ms. Cardoso hopes the club will restore a sense of elegance to city nightlife. "I want people to dress up. I don't really want somebody to show up there with a trucker's hat," she said. "Because I think it's going to have that sort of like old, glamorous feel. And I want people to feel like, 'O.K., when I go to Lavo, I want to put my cocktail dress on.'"
The club's décor reflects Ms. Cardoso's vision, particularly in the details: dark hardwood accents, granite bar-tops, mirrored paneling, a Swarovski Crystal-studded disco ball, compartments built into the banquettes where women can stash their purses when they get up to dance. It's a little bit like 1960s St. Tropez and a little bit like, well, Marquee–particularly when you notice four or five bottles of Champagne with sparklers being danced over to a hedge funder's table by cocktail waitresses.
Yet the gilded age of the early 2000s is gone. "People don't feel right to draw up 20, 30, 50,000 dollars, like they used to back then. And it's just not sexy anymore," Ms. Cardoso said.
The stigma recently attached to bottle service isn't purely economic. These days, the image most Americans associate with the term "cocktail waitress" is the face of Rachel Uchitel, the nightclub VIP hostess whose affair with Tiger Woods was the first to set off a flurry of headlines about Mr. Woods' infidelity last year. Ms. Cardoso has worked with Ms. Uchitel, but doesn't say much about it: "She sent us a lot of business, let's put it this way," she said.
Ms. Cardoso has a rule about that particular problem. "Don't sleep with your clients."
Still, that doesn't mean they can't make a man feel secure. "The hospitality of the club is what stood out to me. It feels like a very safe, comfortable environment," Olympic figure skater Evan Lysacek said of Lavo. "If you're catering to celebrities, you want to have that sort of environment. They made sure everyone was taken care of and everyone had what they wanted."
During Fashion Week, Lavo hosted the after-party for Z Spoke by Zac Posen, its own official opening party and an Us Weekly party. The club has drawn a varied crowd so far: actors (Anthony Mackie, Michelle Rodriguez), artists (Peter Tunney, Rosson Crow), socialites (Shoshanna Gruss, Nicky Hilton), musicians (Ciara, Omarion). Mr. Lysacek attended with his friend Vera Wang.
"The places that are polite and have good food but have great music, they can succeed for a very long time," Ms. Brod said.
Ms. Cardoso phrases Lavo's business plan more succinctly. "You need to say, 'It's O.K. to come and have a cocktail,'" she said. "Because, hey, cocktails add up."
editorial@observer.com