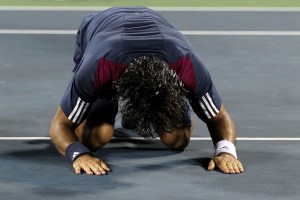 Fernando Verdasco has an uphill climb tonight to beat a player who hasn't dropped a set, or a single service game at the Open. Also, Verdasco is 0-10 lifetime against Rafa.
But if there's one thing that works to Verdasco's advantage tonight it's his eagle-eyed ability to use replay. On challenges so far at the Open, Verdasco is 8 of 16 in having calls overturned when he asks the umpire to get that fancy Hawk Eye technology out to replay a point. That 50 percent clip is well above the 28.1 percent that players are averaging at the Open this year (Interestingly, men have a success rate of 30.1 percent, and women are at 24 percent).
Though Verdasco's record is respectable, it's not quite what Bradley Klahn did in the first round of the Open. In his match against Sam Querrey, he was 5 of 5, hitting a perfect 100 percent. Klahn lost the match in four sets.
In any event, use it Fernando! You'll need all the help you can get.