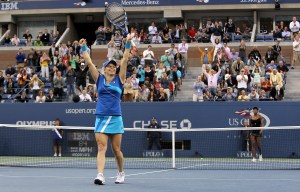 It's been a long time since any of us saw a tennis match that dramatic. Two old time vets showed up in Queens this evening, and they show a lot of guts (and lot of nerves!), but it's Kim Clijsters who walks away with the win and the final's appearance defeating Venus Williams 4-6, 7-6, 6-4.
This was by no means high quality tennis, and, yet again, Venus couldn't get the job done at a major not named Wimbledon. Like she did against Justine Henin at the Open in 2007, or Serena in 2008, or against Clijsters last year, Venus shot herself in the foot. She had nearly a 2:1 ration on unforced errors to winners (50:27) and had 7 double faults, including two critical ones in a second set tiebreak that she lost 7-2.
Opportunity came knocking at Venus's door today, but we don't need to rewrite her legacy quite yet. Venus took on her first Big Time opponent at this tournament, and fell. And Clijsters certainly appreciated it.
"I just tried to make the points," said Clijsters in an on-court interview after the match. "I tried to keep the pressure on her. I'm glad she made a few double faults in the tiebreaker there."
"Obviously in the tiebreak I wasn't able to play as well as I wanted," said Venus, in her opening remarks in a presser reflecting on the match. "I made a lot of errors."
Clijsters obviously didn't have her A-game either, but Venus played slightly worse. Though it always seems silly to make comparisons of Venus to Serena if there's a reason why Serena is showered with so much attention than her older sister the second set proved why: Serena would have closed the deal then and there. This match would not have gone three sets. She would have finished the job.
Even in the third set, Venus had her chances, and they slipped away.
"I don't feel like [Clijsters] settled in a lot," said Venus, talking about the third set. "I had chances for 2-love, and I don't think she felt that comfortable even at 4-all. It was tough. In the third set, it was a good game. She just made good plays. Normally if I'm coming in that much, I'm probably gonna win the game."
And what was the difference?
"I guess at the end she may have made a few less errors. Last two games just went her way."
It seems that Venus and Clijsters reached the same conclusion: Clijsters made fewer mistakes, and a few more big plays.
But, I have to say, I'm glad it went three because we got to see a riveting tennis match, even if it wasn't flawless. It's been a very long time since we saw a match of this magnitude–a semifinal–that was this thrilling. Maybe Capriati-Serena in 2004 is the closest thing to it (and, that too, was full of mistake-prone tennis). And it really goes to show that even if Clijsters and Venus are two rough-and-tough vets, there is still no better stuff that is produced in women's tennis than by the players who emerged on the scene a decade ago. We really should appreciate that era of women's tennis because it continues to entertain.
For Clijsters, this is another great moment. For a second straight match, she came away with a W that she didn't necessarily deserve. But she deserves props for that, and it'll serve her well as she tries to knock down Vera Zvonareva in the women's final tomorrow night.