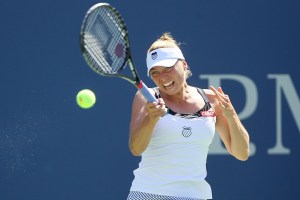 Vera Zvonareva is vying for an upset this afternoon in taking down no. 1 seed Caroline Wozniacki who is a step away from her second straight U.S. Open.
Zvonareva is matched up well against Wozniacki, and there's a good chance she'll give her a good match–if she can control her emotions, that is!
Zvonareva has become known as a player who is prone to the meltdown. Last year, in a fourth round match against Flavia Pennetta, she blew six match points, and the lost the match. Afterwards, she lost her mind a bit. She openly wept on the court after the second set. She cursed all over the court throughout the set. She collapsed and lost the set and lost it 6-0. This was not an isolated incident. There have been many other moments like this too! Crying on the court, cursing at umpires, the whole nine yards.

Wozniacki will induce you to play ugly tennis that will make you frustrated, so Zvonareva will have to keep it somewhat together, if she expects any sort of chance today.
The match will begin around 1:30.