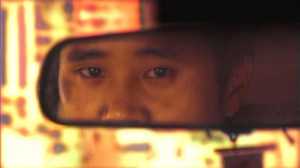 Artist Amir Baradaran has partnered with the Taxi and Limousine Commission to insert his latest video project into 6,300 Taxi TV screens across the city. The project, called "Transient" begins today and features 40-second videos of cab drivers, shot from the back seat.
Baradaran was last seen challenging Marina Abramovic at the MoMA in a project called "The Other Artist is Present." One of the more compelling parts of his latest work is that the videos were filmed as a TLC report hit the press claiming cabbies had overcharged New Yorkers by some $8.3 million over the past two years. The report later turned out to have been exaggerated—which may partially explain the TLC's participation in this cabbie-sympathetic project—but had benefits for "Transient," as it established a more contentious driver-passenger relationship than usual.
"I would show up with a camera, and nine out of ten drivers would turn me down. A lot of them are very new to America, so there are also cultural barriers," Baradaran told ArtInfo.
The project will run until September 15. According to ArtInfo, the project interrupts Taxi TV's regularly scheduled programming and advertisements to air these eerie clips, and with 13,000 taxis operating in the city, odds are good that you'll flag one featuring one of Baradaran's clips. This is probably the most amusing news we've heard about Taxi TV since Greater New York declared that participating in its advertising signifies you've "made it" in New York.