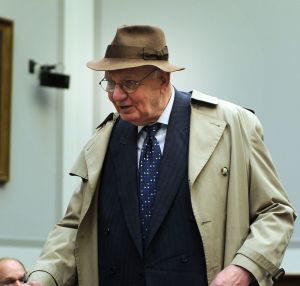 Extremely tall former Federal Reserve Chairman Paul Volcker, who now acts as an advisor to President Obama, said last night that the financial system is just as broken as it was when the world as we knew it was ending in 2008.
It's not liable to get any less broken any time soon. A provision of the Dodd-Frank financial reform law is preventing the U.S. from adopting the newly agreed-upon Basel III capital requirements for banks. Per Dodd-Frank, regulators can no longer rely on ratings firms to help determine the safety of assets. Meanwhile, Basel requires banks to maintain certain capital levels based on those very same ratings. Now U.S. regulators are going to have to come up with some other way to establish asset risk.
In another indication that financial overhaul may have fallen short of its goals, Volcker said that the rule that bears his name is not as strong as he would like.
The 6'7″ economist, legendary for his epic battle with inflation during the 1970s, said that the "Volcker rule" component of financial reform could have been stronger, but it's still a step in the right direction. The rule intends to significantly curb banks' investments in hedge funds and private equity firms, and prohibits banks from trading with their own capital.
Volcker also said that he isn't overly concerned about deflation. He also said he isn't overly concerned about inflation, given the slow economy and high unemployment: "This is not an atmosphere that's inclined to produce inflation. I think we ought to be sure that we don't take actions that down the road might lead to an inflationary situation."