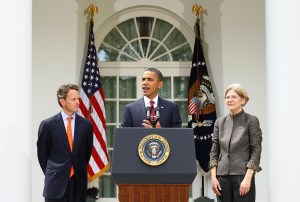 In the past, there's been some chafing between Treasury Secretary Tim Geithner and Elizabeth Warren, the new pseudo-head of the Consumer Financial Protection Bureau. Now that the pair of financial regulators are being asked to shed their animosity and work together to create a bank regulator with a $400 million budget. We'll get a glimpse into how well they work together today at 1 p.m., when they're scheduled to host a public forum on mortgage regulation.
Bloomberg asked Warren if she would run crying to Obama if she wound up in a dispute with Geithner. Warren said that she, the President and the Treasury Secretary "see eye-to-eye on this consumer agency. And because of that, we are all trying to push in the same direction."
Sounds good enough, but there's also a fundamental problem. Warren and Geithner will at some stages be working toward divergent goals. Geithner's job is to protect the financial system and by extension the broader economy. Warren, meanwhile, is charged with keeping banks from ripping off consumers too badly — a cause that could easily eat into banks' profit margins at a time when the system is still recovering from a shock. Sparks have flown before between Warren and Geithner. We'll see how effectively they work together now that they have to.