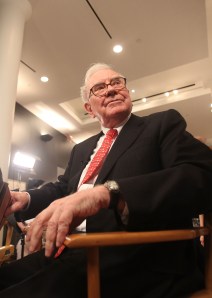 Wonderful news from octogenarian billionaire investor Warren Buffett: The Oracle of Omaha does not see any double-dip recession in the U.S.'s future.
"I am a huge bull on this country," Buffett said today via telecast at the Montana Economic Development Summit, Senate Finance Committee chair Max Baucus' regional dog-and-pony show. He also said that business is healthy at his Berkshire Hathaway company. Berkshire operates insurance, transportation and a host of other businesses. Previous notable Buffett prognostications include his Oct. 16, 2008 "Buy American" op-ed in The New York Times. Investors who bought the S&P 500 on that day would currently be up around 25 percent today, although first they would've had to endure a 24 percent drop in the months following Buffett's opinion piece. Buffett's letters to shareholders are widely read across the finance industry.
Buffett's bullishness stands somewhat in contrast to the attitude of new Council of Economic Advisors head Austan Goolsbee, who on Sunday said that he expects unemployment to remain high in the short term.