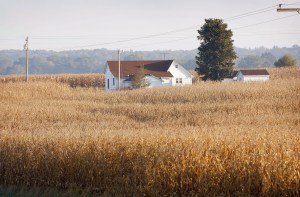 On page A16 of The New York Times print edition today, we have the first Kansas dateline from recently coronated Kansas City Bureau Chief A.G. Sulzberger.
Mr. Sulzberger reports from Mulvane about a retired postman, Larry Richardson, who built a replica of San Francisco's Golden Gate bridge over the creek near his house ten years ago. He copied the design from a postcard.
Mr. Richardson is fixing to apply a new coat of paint.
But Pinch Jr. glosses over the main issue at play in the story: Why does somebody in Mulvane, Kansas want a replica of the Golden Gate bridge in his backyard? He explains that the midwest is full of folksy tourist attrations — corn palace! giant balls of twine! — but why the Golden Gate bridge and not a bridge on a different postcard?
Mr. Sulzberger's sources are Mr. Richardson, his wife, his younger brother, an 80-year-old woman in the Mulvane Senior Citizen Center and the author of a book about the Golden Gate Bridge (on background).
Lucky for Mr. Sulzberger, the art department saved the day. The story ran with a great map of the Wichita metropolitan area.
A Golden Gate Fantasy on the Kansas Prairie [NYT]