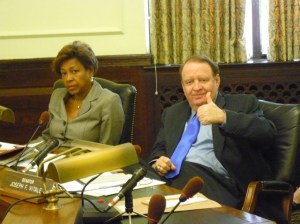 TRENTON – State Sen. Richard Codey (D-Roseland) argued that a Waterfront Commission is still needed, and his view was reinforced by the commission director.
Codey noted that this IPSIG legislation may have overstepped the boundaries of the commission, but, "There's a happy medium here somewhere." Corruption on the waterfront isn't dead, Codey represented.
State Sen. Ray Lesniak (D-Elizabeth) differed in his opinion on the longshoring business, noting the costs attached that make the harbor the most expensive in which to do business.
"They're a legitimate business that's carrying the weight of the '50s with them," he said, adding that the "law enforcement capabilities" are in place to control mob-related activities.
Not exactly so, said Walter Arsenault, executive director of the Waterfront Commission.
"How would you categorize the level of organized crime at the waterfront?" State Sen. Joe Kyrillos (R-Middletown) asked.
After listing several ongoing investigations into organized crime, Arsenault said more arrests will come out "before a year has gone by."
Michael "Mickey Cigars" Coppola, Genovese capo, was convicted of federal racketeering in 2009, according to the WC report, as was Gambino soldier Anthony "Todo" Anastasio. Both were heavily tied to labor, the report said.
Arsenault's commission can force organized crime convicts off executive labor boards and off the docks.
Lesniak asked, "Are you suggesting that the influence of organized crime is worse?"
"(T)he influence of La Cosa Nostra is less," Waterfront Commissioner Barry Evenchick said, but, "If there's one industry that they still hold power, its the waterfront industry."
According to a N.Y. Inspector General report, last decade on the commission was a "period of inertia," Evenchick said. "I think it's dramatically different now."