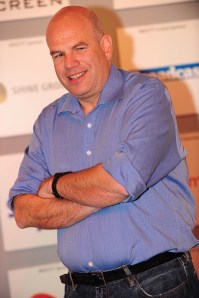 When David Simon first learned that he won the MacArthur "genius" Grant — which comes with $500,000 tax-free, no-strings-attached, paid out in quarterly installments over five years — his first thought was to give the money to charity. He doesn't need it. "To be blunt, I'm in the entertainment industry … and my contracts are well funded right now," Mr. Simon, who created both The Wire and Treme for HBO, told The Wall Street Journal.
Mr. Simon hasn't said exactly how he'll use the money, but he is not going to give it away. He's interested in advocating more seriously for the issues that he writes about in his shows. "One overt argument that The Wire was making is that the drug war is amoral and untenable," Mr. Simon told The New York Times ahead of the MacArthur Grant announcement.
But Mr. Simon hasn't said anything about improving the state of journalism. Maybe that's a lame cause by now? It would be nice if he put some of this money where his mouth is. Mr. Simon, who worked as a crime reporter at the Baltimore Sun in the '80s and '90s where he drew a lot of inspiration for The Wire, spoke on the Senate subcommittee hearing about the Future of Journalism in 2009. "The day I run into a Huffington Post reporter at a Baltimore zoning board hearing is the day that I will be confident that we've actually reached some sort of equilibrium," Mr. Simon told the subcommittee, chaired by Senator John Kerry. He was sitting next to Arianna Huffington. "You know, the next 10 or 15 years in this country are going to be a halcyon era for state and local political corruption. It is going to be one of the great times to be a corrupt politician, all right?"
Mr. Simon expressed his disgust with old and new media companies alike, saying that they were colluding in a way to end some of the most important journalism (namely reporting at a local level). "Well, a plague on both their houses," he said. (Mr. Simon echoed these thoughts in an interview with Capital's Josh Benson in June.)
In his recent interview about the grant with The Times, Mr. Simon expressed a lack of confidence. "Obviously, I'm very grateful but I have a vague sense of not belonging," he said. Mr. Simon lamented that past winners had done "tangible things to improve conditions." But it seems like Mr. Simon already has a great idea about how to improve conditions. Go to work on a new model for local reporting. $500,000 might not pay for a newsroom, but Mr. Simon must have ideas about how to put the money to work. Other people have tried, and it's defnitely not an easy problem to solve. It might even take a genius.