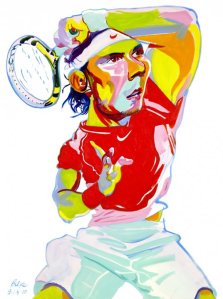 After 15 days in Queens, I learned quite a lot at this year's U.S. Open!
For the third straight year, let's start with the weather.
The rain did it again. It messed everyting up and made us crazy. It drove me to live-blogging the weather for five hours, it canceled play and pushed our final to Monday afternoon. Somehow, the rain actually screwed up the schedule even more this year. The men's final finished after 10 p.m. on a Monday night, and wound up on ESPN2. It was a few minutes away from finishing on ESPN Classic! What channel is that even on on Time Warner?! This is the men's final we're talking about here! Lots of blame to go around here — Ashe, the roof, etc — but it's time for the U.S. Open folks to take a good hard look at how CBS walked right over them, and then abandoned them at a critical moment for the sport.
But the rain only showed up at the end. The weather had caused all sorts of problems before that. It all began with the heat. A player collapsed on the court! Fans were beating each other up! Folks ripped their shirts off and put towels on their heads! Nutty.
And just as the heat went away, the cold hit us! It felt like the World Series! Then the wind hit us. The worst wind ever, we were told. But as Rafa put it: "Is a lot of windy here always." Exactly.
Without Serena, there wasn't much to watch on the women's draw, but we couldn't help but notice that every player seemed to wear the very same Lacoste outfit. Doubles matches, first round matches, the quarterfinals! Wherever we looked, there was that white tank.
We found out where a bunch of tennis stars (Murray! Jankovic! Ryan Harrison!) stayed in New York, and it wasn't at The Standard. Nope, it was a Radisson on 48th and Lexington and — wouldn't you know it — as soon as we wrote about it, they all lost. The Radisson must be cursed! But one player survived out of our favorite reasonably priced hotel — Vera Zvonareva. She did the Radisson proud.
We hit the grounds a bunch and found some Master Chefs having an absurd cook-off (I'll take the tilapia burger!). But we found their food court (despite what Sam Sifton says) to be quite tasty. Not that all the food was good. No, sir. Stay far away from that Vegas establishment! The pits!
The American men once again packed in early, but at least Sam Querrey made it to the 4th round. His shirthless cheering squad, however, wasn't there to support him. The Samurai went missing this year, and it turns out the reason is, in part, due to old age.
Sam was upset that the Americans got snubbed from Ashe, but who needs it? If it's the first week, stick with Armstrong!
I got a little lonely this year, so I wound up talking to myself a bunch. At least I had Pam Shriver who entertained for two solid weeks.
We saw one good women's match the entire time, and it belonged to Kim and Venus in the semis. The next night, Clijsters took her second straight title, even if the last match was probably the least entertaining women's final at any Grand Slam in recent memory.
Despite the women's draw, the rain, the wind, CBS, the roof controversy, the Lacoste tank — whatever — this tournament belonged to one person: Rafa Nadal. It's true, we didn't get the Roger-Rafa final we all wanted. The buzz was deafening, and it lasted two weeks. But Novak Djokovic put a hard-earned stop to it, and there's not much else you can say.
Rafa walked into this tournament as a guy who never seemed at peace with New York. That all changed this week. He got better each match, discovered new elements to his game (that serve!) and soaked up the city and night matches in a way that we never saw. Before the tournament, we made a pledge to rally behind Rafa if he gave us a reason. He delivered!
See ya next year!