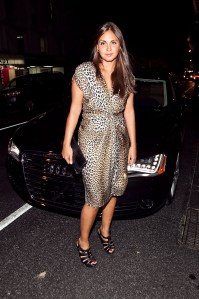 The official after party for yesterday's Ruffian show was held last night at Midtown mainstay Michael's, and it was billed as a supper. It was hosted by British photographer and socialite Poppy de Villeneuve and avowed Ruffian fan Lorenzo Martone, and the fact it was a "supper" seemed appropriate for the evening — especially at a place so redolent of power lunches and McInerney novels as Michael's.
But, alas, The Observer came away not quite convinced that the food and ambiance made the event something worth deigning a "supper." Instead, the fare consisted of the standard Fashion Week party set of hors d'oeuvres, albeit one of decent quality. Despite the lack of a proper supper, the crowd nibbled on sliders, mini red velvet cupcakes, bite-sized crab cakes, tiny cuts of smoked salmon on tartines, and a full table of shrimp (which was wonderful, but the clubby and classic feel of the place, with Jasper Johns and Frank Stella paintings on the walls, was just begging for a raw bar).
To wash the "supper" down, the bar offered cocktails made with Jack Daniel's and Ketel One, and servers walked around with cans of Red Bull on platters.
Among those indulging in the snacks and drinks were Martone, Alan Cumming, and Lance Bass, who stopped by after many had already left.
We approached Mr. Cumming to see what he thought about this "supper" they were serving, but he declined to comment. "It's not a good time," he said, his think Scottish accent perhaps even stronger than usual. "I'm a little drunk."